With the excitement of the Masters just three weeks away, find out how you can have an unforgettable experience attending the Tournament, Bullseye style!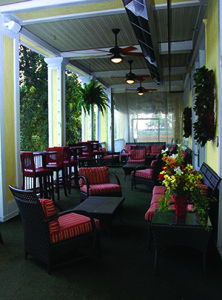 STAY AT THE PARTRIDGE INN
Nestled in the heart of the historic Summerville district on a quiet hilltop overlooking Augusta, Georgia, The Partridge Inn is located just two miles from Augusta National Golf Club, home to the ultimate golfer's experience, the Masters. For more than a century, The Partridge Inn has hosted world events, presidential visits and lavish social functions. Known as "The Grand Hotel of the Classic South," the hotel has earned a reputation for luxurious accommodations, award-winning dining and personalized service, creating legendary memories for guests. Established in 1892 during Augusta's heyday as the South's premiere winter resort destination, the original building was built as a private residence 178 years ago and lives up to its richly vibrant past even today. Recently renovated to offer the modern comforts and  amenities you've come to expect from a luxury property, The Partridge Inn is exquisite in every way.
During Masters week, guests will enjoy dinner or a cocktail on more than a quarter-mile of verandahs and balconies wrapping around the hotel, or a swim in the secluded outdoor pool. Or as they say in the South, anything your little heart desires.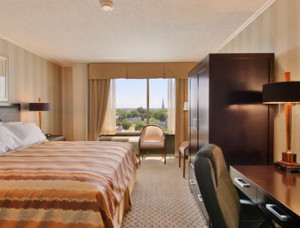 STAY AT RAMADA AUGUSTA DOWNTOWN
Located just a mile and a half from Augusta National Golf Club, the Ramada Augusta Downtown Hotel and Conference Center is the perfect spot for an excellent Masters tournament experience. The Ramada Augusta Downtown and Ramada Worldwide are part of the  Wyndham Hotel Group, title sponsors of the Wyndham Championship since 2007. Founded in 1938 as the Greater Greensboro Open, the Wyndham Championship is the final stop on the PGA Tour's FedExCup regular season, and takes place in mid-August at Sedgefield Country Club in Greensboro, North Carolina. Patrick Reed holds the Championship title for 2013.
Guests attending the Masters can start each day with homemade biscuits and gravy or another regional selection at the Ramada's Southern Style Hot Buffet Breakfast before heading off to August National. After the tournament, enjoy panoramic views while dining at the penthouse-level Eagles Nest Rooftop Lounge. And if you fancy a little southern style evening stroll, 25 different restaurants and bars are waiting to serve you within walking distance from the hotel, including Augusta's own Frog Hollow Tavern and its newest establishment, Farmhaus Burger –both feature locally- and regionally-grown, seasonal ingredients.
LUXURY HOSPITALITY AT LEGENDS CLUB
Bullseye hand-selected The Legends Club as your hospitality destination especially for its convenience and proximity to Augusta National Golf Club –just about a 9 iron shot away. This extraordinary destination inspires equally extraordinary hospitality, unrivaled by any in the Augusta area. For the ultimate Masters experience, The Legends Club of Augusta offers unparalleled service and amenities for guests attending the Masters Tournament:
private, climate-controlled VIP lounges and reserved seating in an elegant, beautiful setting
relaxed, comfortable seating on the outdoor patio
premium five-star catering throughout the day, with gourmet breakfasts, lunches and hors d'oeuvres
an all-day open bar featuring premium spirits and beverages
Masters hospitality is a Tournament tradition. Stay up-to-date with all Masters activity during your hospitality stay, with real-time golf scores and top-of-the-line closed-circuit television coverage. Have Bullseye arrange to have your corporate branding featured on lanyards, tables and inside the club. Enjoy full business facilities at The Legends Club, including wireless internet access. With an unbeatable location -only steps from the main entrance gate to the Tournament golf course, directly across from the grounds- guests are able to walk to and from the Tournament and The Legends Club in style. However, convenient valet parking is also available.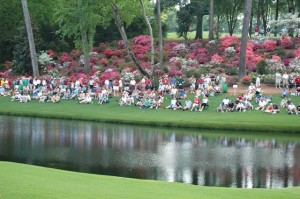 2014 MASTERS TOURNAMENT TICKETS
Championship and Practice Round single-day tickets can be purchased separately or included with our exclusive hotel, tour, Masters travel packages and Masters hospitality. Either option offers the chance for a one-of-a-kind opportunity to experience this premiere PGA Tour event and all that Augusta National Golf Club has to offer.
The Masters Tournament is an event like no other, and Bullseye Event Group can help you secure your spot to enjoy some of golf's finest moments. Contact us today to reserve your Masters Tickets and create your Masters Tournament Package!