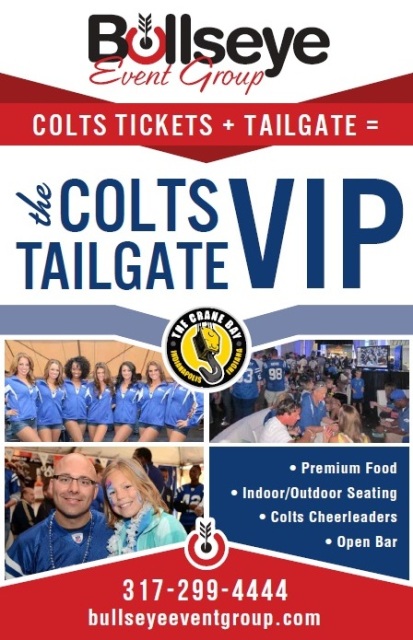 COLTS NATION – If your Indianapolis Colts win the game against the Texans on December 14, they clinch their division- the AFC South! Cheer them on #ColtsStrong for their final home game Sunday, December 14. Start with a trip to the Colts VIP Tailgate!
Colts Tickets + Tailgate = Colts VIP Tailgate
Back in October, when the Colts met the Texans in Houston, they scraped by with a 33-28 win after an exciting game. This time, as the Texans travel to Lucas Oil Stadium, the Colts will have the crowd on their side -especially after y'all get ready for some football at the last Colts VIP Tailgate of the 2014 season.
All-Inclusive Price
Join Bullseye Event Group as we host what's been called the BEST pre-game party in downtown Indianapolis: Indoor and outdoor seating at the Crane Bay Events Center. Family-friendly. Fantastic food from Ruth's Chris Steakhouse and Another Broken Egg Café. Colts Cheerleaders. Open bar, premium refreshments. NFL alumni. Pre-game media coverage. Sports memorabilia auction. Steps from Lucas Oil Stadium. Sounds like …
3 Hours of Tailgate Awesomeness
Don't miss your chance – a few spots are still available – everyone's invited! Sunday, December 14 starting at 10:00 a.m. One last time.
About Bullseye Event Group
Bullseye Event Group is the Official Events and Travel Partner of the Indianapolis Colts. As one of the nation's leading Sports Travel package provider and event ticket companies, Bullseye Event Group is a secure, official source for travel, hotel, pregame parties and tickets, and a direct, dependable source for The Colts VIP Tailgate, Super Bowl XLIX packages, The Players Super Bowl Tailgate, The Masters and event tickets, delivering unforgettable experiences to fans nationwide. Contact us by posting a comment below or by calling 888-900-6564.