Kentucky Derby Weekend Party Guide
May 1st, 2017 by Bullseye Event Group
It's officially Kentucky Derby week! And as jockeys prepare their horses for the "Run for the Roses" on Saturday, it's time to get your plans set for the biggest weekend in horse racing. A complete guide to the weekend's Kentucky Derby parties from days before to race day morning.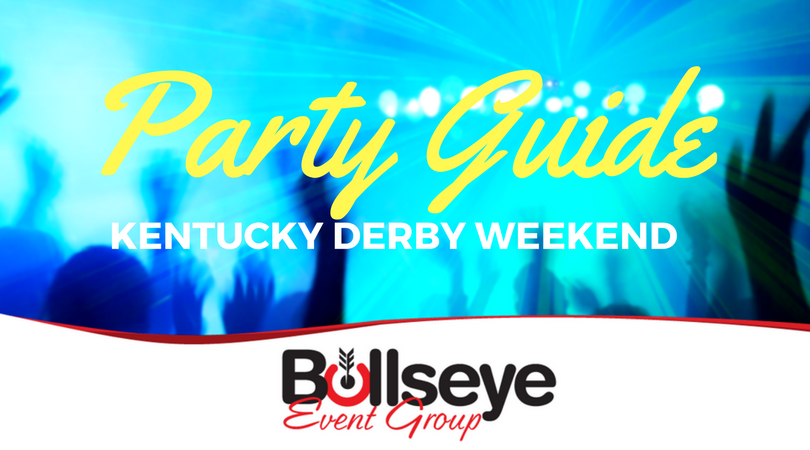 2017 Derby Launch Party, hosted by Guy Fieri | Friday, May 5, 9 p.m. to 3 a.m. | Tickets & Info
The first ever Derby Launch Party looks to be the hottest party during Kentucky Derby weekend in Louisville. Hosted by celebrity chef Guy Fieri, the late-night party boasts a five-star all you can eat buffet, premium open bar, Kentucky bourbon tastings, entertainment from world-renowned DJ Irie, NFL players, celebrities and more.
Dawn at the Downs | Tuesday, May 2 through Thursday, May 4, 7-9 a.m. | Tickets & Info
"Dawn at the Downs is a popular tradition for both Louisvillians and visitors, giving Kentucky Derby fans the opportunity to see the contenders train for the big race, while listening to expert commentary. Narrated by resident expert handicapper, Joe Kristufek. Listen as Kristufek announces the horses on the track, evaluates their workouts, discusses their past performances, and provides insight to the Kentucky Derby & Oaks races." For more information, click here.
Taste of Derby 2017 | Thursday, May 4, 7 p.m. | Tickets & Info
Give your palate the party it deserves with the Taste of Derby Party! A night full of delicious cuisine, drink pairings, and Derby style. For more information, click here.
Kentucky Derby Winner's Party | Immediately Following Derby | Tickets & Info
Join the celebration and witness the crowning of a new champion at the Winner's Party. Toast alongside the winning jockey, trainers, and owners for the perfect ending to your Kentucky Derby® experience. For more information, click here.
Which Kentucky Derby week parties are you most excited to get to? Tweet us your answers with the hashtag #DerbyLaunch and we'll retweet our favorites!
Get your tickets now for the 2017 Derby Launch Party hosted by Guy Fieri! Kick off Kentucky Derby weekend at Tavern on Fourth on Friday night, May 5, with a five-star buffet, entertainment from the iconic DJ Irie, celebrity guests, chefs and more. Get your tickets today.