Indianapolis Colts Weekly Update: @ Seattle Seahawks
October 2nd, 2017 by Bullseye Event Group
As the 2017 NFL season concludes Week 4, the Indianapolis Colts traveled to Seattle to take on the Seahawks in their intimidating home environment of CenturyLink Field.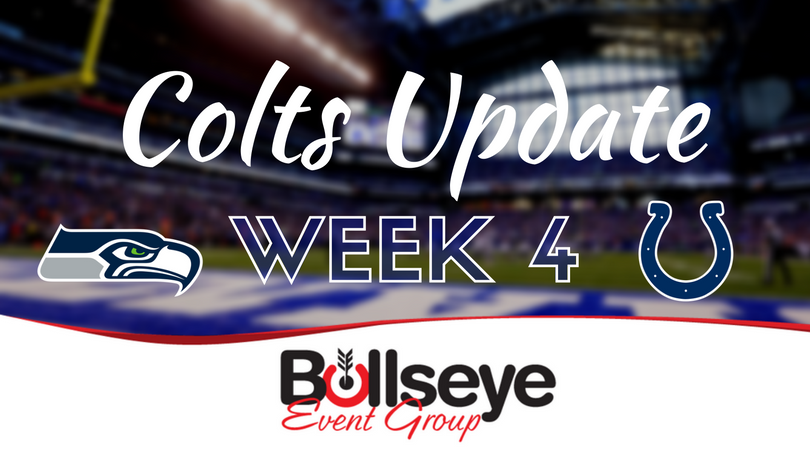 Brissett Struggles
Despite a solid showing in Week 3 against the Cleveland Browns, Colts quarterback Jacoby Brissett struggled mightily in his first career road start. Starting your first career game on the road in Seattle is no small task, and the Seahawks defense was able to take advantage of the crowd noise to intimidate the Colts.
#FEEDMONCRIEF#FEEDMONCRIEF#FEEDMONCRIEF#FEEDMONCRIEF#FEEDMONCRIEF pic.twitter.com/v5UEzPjWGm

— Indianapolis Colts (@Colts) October 2, 2017
Early in the game, Brissett threw a floating pass on an out-route, which was intercepted by Seattle and returned for a touchdown, giving them a 10-2 lead over the Colts. And despite leading the team to two solid scoring drives to round out the first half, Brissett's struggles carried over to the second half, where the second-year QB was hit and fumbled the ball, resulting in a scoop-and-score for Seattle. Brissett's 14-points given to Seattle was just one of the many factors in the Seahawks' convincing 46-18 victory.
Defense Shines.. For A While
For two and a half quarters of the game, the Colts defense showed that young promise we've seen glimmers of in the first few weeks of the season.
Then, the third quarter came calling. And the veteran offense of Seattle took over.
But that doesn't erase the team's glimmers of greatness on the defensive front. Newcomers Jon Bostic and Jabaal Sheard, namely, led the way with a combined 19 tackles, one sack and one tackle for loss. Second-year safety Matthias Farley made arguably the best interception in the league this season, with a tip-drill toe-drag on the sidelines, and the rookies shined as well, with rookie defensive back Nate Hairston recording six tackles and one sack, and safety Malik Hooker recording an interception in his third straight game.
Looking Forward
The Colts return home in an emotional Week 5 for the team, where the franchise will reveal former quarterback Peyton Manning's statue on Saturday, followed by a jersey retirement ceremony at halftime of the Week 5 matchup against the San Francisco 49ers.
---

The Colts VIP Tailgates are BACK for the 2017 Indianapolis Colts season! With a new general manager and a re-shaped roster, the Colts look to start anew and make a triumphant return to the NFL Playoffs. Don't leave your pre-game plans up to the Indiana weather. Get your 2017 Colts VIP Tailgate tickets today! 
Purchase Colts VIP Tailgate Tickets