Indianapolis Colts Update: Preseason, Week 1
August 14th, 2017 by Bullseye Event Group
The Indianapolis Colts officially kicked off their 2017 NFL campaign on Sunday, in a preseason matchup against the new-look Detroit Lions. A look at what fans can take away from the team's first on-field action.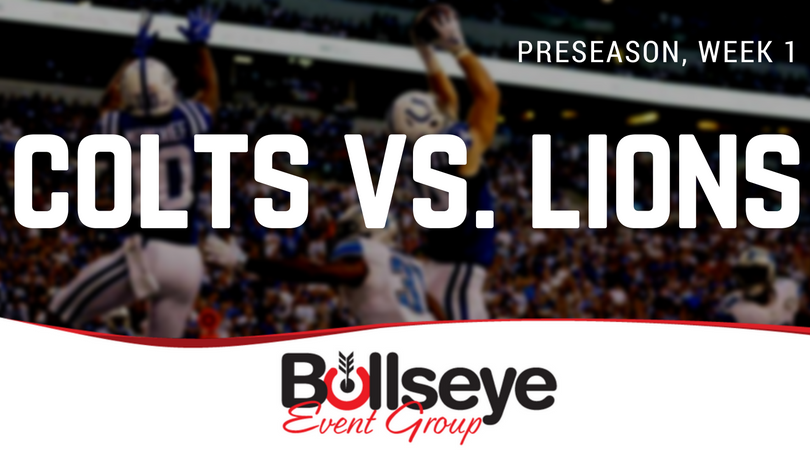 In Need of Luck
One thing that was apparent for all fans is the team's desperate need for quarterback Andrew Luck to take the field. The Colts used three quarterbacks in the game against the Lions, starting with Scott Tolzien before handing the reins to rookie Phillip Walker for the majority of the game, and closing with Stephen Morris. All three quarterbacks combined for a 53.3 percent completion percentage, 178 yards and zero touchdowns.
Despite a "ho hum" performance, coaches gave the majority of the team's snaps to Walker, hoping to get a good look at a player that players, coaches and reporters have been high on throughout training camp.
Glimmers of Hope
There were several bright spots for the team in Sunday's game, including a first look for fan's at a portion of the team's new-look defensive front seven.
Despite limited action, newcomers Barkevious Mingo and Sean Spence, along with rookies Malik Hooker, Quincy Wilson and Tarell Basham, combined for 17 tackles, one tackle for loss and one turnover, an interception from new outside linebacker John Simon.
An undrafted free-agent out of Akron, wide receiver Bruce "JoJo" Natson was a bright spot for the team on offense, nabbing five of his seven targets for 51 yards. Second-year running back Troymaine Pope was far and above the best running back of the day for the Colts, carrying the ball seven times for 31 yards and the team's only touchdown of the day.
Post-Game Comments
With the team taking the field for the first time, a lot of potential storylines are bound to develop. However, it was after the game that made the biggest headlines.
Team owner Jim Irsay spoke to the media about quarterback Andrew Luck's health and rehabilitation from offseason shoulder surgery, giving fans an update they've been waiting to hear; he's throwing a football.
Jim Irsay on Andrew Luck: "I would say his progression could not be better."

— Zak Keefer (@zkeefer) August 13, 2017
Jim Irsay on the Andrew Luck situation: pic.twitter.com/2Q7QHc57th

— Zak Keefer (@zkeefer) August 13, 2017
---

The Colts VIP Tailgates are BACK for the 2017 Indianapolis Colts season! With a new general manager and a re-shaped roster, the Colts look to start anew and make a triumphant return to the NFL Playoffs. Don't leave your pre-game plans up to the Indiana weather. Get your 2017 Colts VIP Tailgate tickets today!