As teams take their preparations for the 2017 NFL season behind the scenes for the months of June and July, we're taking a look at the matchups from the upcoming 2017 season for the Indianapolis Colts. Up next: weeks 9-12.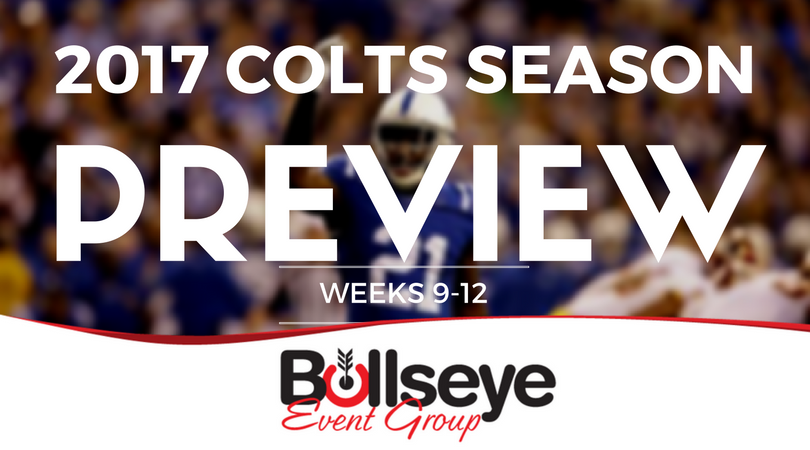 Week 9: Indianapolis Colts @ Houston Texans – Nov 5, 1 p.m. ET (CBS)
For the first time in the 2017 season, the Indianapolis Colts will square off agains the Houston Texans in a game of two divisional rivals set to battle for the divisional crown. The Texans, having undergone drastic changes in the 2017 offseason such as trading $72 million starting quarterback Brock Osweiler to the Cleveland Browns, drafter college football national champion quarterback Deshaun Watson out of Clemson, and losing some key defensive starters. One of those starters; new Indianapolis Colts starting linebacker John Simon. This will be the first of two matchups for these two teams, with the second coming in Week 17.
Week 10: Pittsburgh Steelers @ Indianapolis Colts – Nov 12, 1 p.m. ET (CBS)
A rematch of the two teams' showdown on Thanksgiving night in the 2016 season, the Pittsburgh Steelers will once again return to Indianapolis in Week 10. This time, however, the Colts are hoping quarterback Andrew Luck will face off against the Steelers. In 2016, Luck sat out the Thanksgiving game with a concussion, leaving quarterback Scott Tolzien to lead the offensive attack. The Steelers are returning their main offensive corps, as well as some new offensive weapons acquired through the draft, in a game that should test the legitimacy of the new Colts defensive front seven.
Week 11: Bye Week
A much needed week of rest happens to fall at (hopefully) a good time for the team, late in the season and allowing for a week to re-charge and set up for a playoff run.
Week 12: Tennessee Titans @ Indianapolis Colts – Nov. 26, 1 p.m. ET (CBS)
The second of two matchups, this time at home for the Indianapolis Colts. These divisional matchups in the AFC South look to be critical to each team's playoff hopes.
Tickets for the 2017 Indianapolis Colts VIP Tailgates are officially available! With a new general manager and a re-shaped roster, the Colts look to start anew after their disappointing 2016 campaign. Get your 2017 Colts VIP Tailgate tickets today!