Indianapolis Colts: NFL Draft Reaction
May 5th, 2017 by Bullseye Event Group
With new general manager Chris Ballard looking to add his own personal touches to the roster, the Indianapolis Colts are undergoing a massive face lift of sorts. Phase two of this re-tooling of the roster came in the 2017 NFL Draft. What are experts around the league saying about the Colts' selections?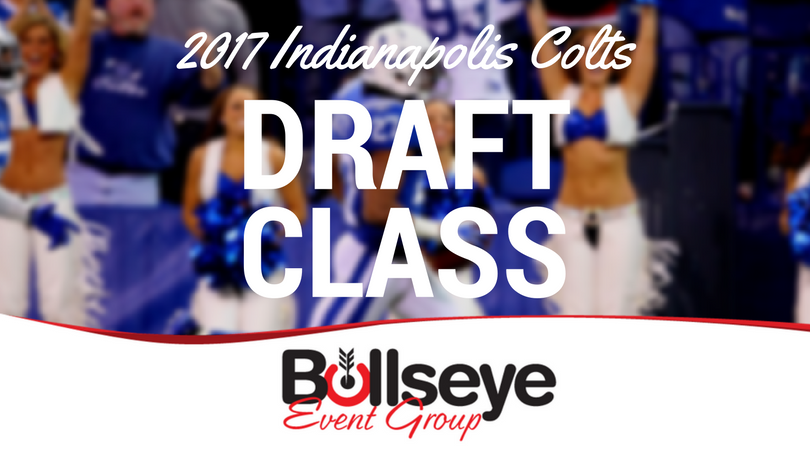 To recap, a look at the Indianapolis Colts draft class:
Round 1, Pick 15: Malik Hooker, S, Ohio State
Round 2, Pick 46: Quincy Wilson, CB, Florida
Round 3, Pick 80: Tarell Basham, EDGE, Ohio
Round 4, Pick 137: Zach Banner, G, USC
Round 4, Pick 143: Marlon Mack, RB, South Florida
Round 4, Pick 144: Grover Stewart, DT, Albany State
Round 5, Pick 158: Nate Hairston, CB, Temple
Round 5, Pick 161: Anthony Walker Jr., LB, Northwestern
Chris Burke, Sports Illustrated Draft Grade: A
"Incredible value for the Colts at each of their first three picks: Safety Malik Hooker (No. 15 overall) and cornerback Quincy Wilson (46) should be instant starters in the secondary, while edge rusher Tarell Basham (80) at least can make an impact on passing downs. For a team whose defense picked off just eight passes last season and lost OLBs Erik Walden (free agency) and Robert Mathis (retirement), this was a critical restocking. RB Marlon Mack (Round 4) is a home-run threat to slot in behind Frank Gore, while fifth-round LB Anthony Walker has three-down potential. The only shoddy pick was OT Zach Banner, who faces a long road to being a serviceable NFL blocker." To read the entire story, click here.
Mel Kiper Jr., ESPN Draft Grade: B
"New general manager Chris Ballard inherited a porous defense, and he went that direction with his first three picks. Malik Hooker
could have gone as high as No. 7, but the one-year wonder dropped to 15. He's the best center fielder in his class, and some have compared him to Ed Reed, but Hooker needs to improve as a tackler. He's a ballhawk who is recovering from having surgery in January to repair a torn labrum in his left hip and repair sports hernias. Ballard did a nice job addressing the defense, but there's still a long ways to go. I also wouldn't have minded a tight end to replace the departed Dwayne Allen." To read Kiper's NFL Draft grades, click here.
Chad Reuter, NFL.com Draft Grade: A-
"The skinny: In the first round, the Colts got the rangiest safety prospect since Earl Thomas. They got very good value at No. 15 at a major position of need. It's a big win for the Colts' defense. Indianapolis had to be thrilled to get Quincy Wilson to help out Hooker in the secondary. Tarell Basham is a pass rusher who can covert power to speed on the edge; getting him in the third was a good deal. Indianapolis made very good back-to-back picks in the late fourth with running back Marlon Mack (slasher with more power than you'd think) and defensive tackle Grover Stewart (nose tackle with good footwork). Zach Banner was a stretch in the fourth round, though he could be a D.J. Fluker or Orlando Franklin-type guard. In the fifth, Anthony Walker provides strength in the middle of their defense. This was a well-executed draft." To read more of Chad Reuter's NFL Draft grades, click here.
Dieter Kurtenbach, Fox Sports Draft Grade: A
"A tremendous draft. This is the kind of work that can totally change the complexion of teams — it's funny how you can do that when you already have your quarterback. Malik Hooker and Quincy Wilson will be All-Pro caliber players for that defense. Tarell Basham is an intriguing third-round project. Great picks in RB Marlon Mack, CB Nate Hairston
, and LB Anthony Walker as well. Would have liked to have seen another offensive lineman taken to balance out the reach on Zach Banner, but that's the only knock." To read more of Dieter Kurtenbach's NFL Draft grades, click here.
Tickets for the 2017 Indianapolis Colts VIP Tailgates are officially available! With a new general manager and a re-shaped roster, the Colts look to start anew after their disappointing 2016 campaign. Get your 2017 Colts VIP Tailgate tickets today!