Phoenix isn't the only place in Arizona that's planning a serious lineup of events in honor of Super Bowl XLIX in 2015.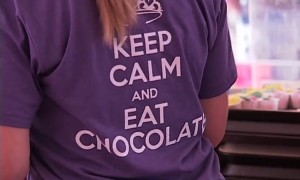 Glendale -home of the University of Phoenix Stadium – is hosting a super-sweet treat for Super Bowl weekend … it's football-themed and there's chocolate. What more could you ask for?
Free Admission and Free Parking
The 20th Annual Glendale Chocolate Affaire is a special community event held in Historic Downtown Glendale each year and is filled with heavenly confections like chocolate-dipped strawberries, chocolate-drizzled kettle corn, chocolate-covered nuts, berry chocolate kabobs, fudge popsicles, chocolate over cheesecake and bananas, fried Twinkies and fried Snickers glazed  with chocolate and much more from nearly 40 chocolate purveyors – and in 2015, it includes football-themed chocolate creations!
Super Street Also a Treat
Located at Murphy Park in the heart of downtown Glendale, children and their families can take part in hands-on arts and crafts, face-painting, a rock-climbing wall and the newest attraction, Super Street -live music, games and activities with decorations themed to each of the two NFL conference champion teams in the big game. Cerreta Candy Company, major event sponsor and one of Arizona's famous chocolate makers, is offering tours of the candy factory all weekend long, featuring "football" chocolate and more.
The Glendale Chocolate Affaire is the culmination of the city's festival season, which kicks off on Black Friday, November 28 and celebrates not only the holidays but the great honor of hosting Super Bowl XLIX. Season highlights include:
November 28-29
Glendale Glitters Spectacular Weekend
December 5-6
Glendale's Jingle Bell Rockin' Nights
December 12-13
Glendale's Winter Wonderland Weekend
December 19-20
Glendale's Spirit of Giving Weekend
January 10, 2015
Glendale Glitter & Glow
January 30-31, 2015
Glendale Chocolate Affaire
Super Spectacular, Super Close
Bullseye has four spectacular hotel packages available for Super Bowl XLIX, close enough to Glendale to smell the chocolate. The time is right to check 'em out, and choose one.
About Bullseye Event Group
Bullseye Event Group is the Official Events and Travel Partner of the Indianapolis Colts. As one of the nation's leading Sports Travel package provider and event ticket companies, Bullseye Event Group is a secure, official source for travel, hotel, pregame parties and tickets, and a direct, dependable source for The Colts VIP Tailgate, Super Bowl XLIX packages, The Players Super Bowl Tailgate, The Masters and event tickets, delivering unforgettable experiences to fans nationwide. Contact us by posting a comment below or by calling 888-900-6564.