Now is the time …
… to plan your Super Bowl XLIX party crawl. That's right – tickets and invites are going way too fast. You're where you need to be, though: Bullseye Event Group. Get your seats at the hottest, sexiest, most popular, sought-after, legendary and coolest parties in the Valley of the Sun for Super Bowl XLIX. Here's a rundown.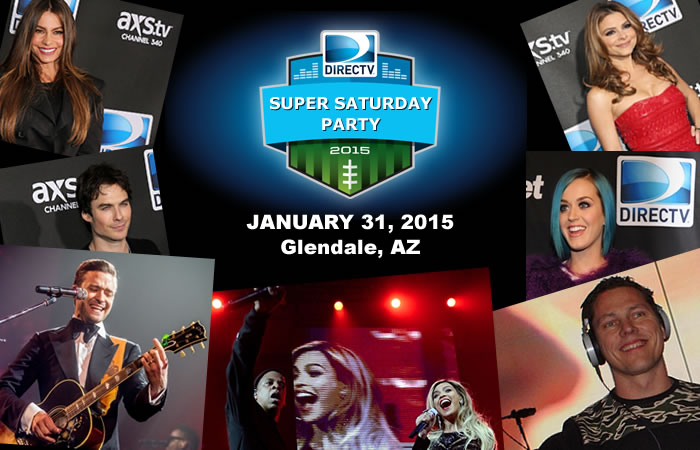 The most sought-after of all Super Bowl Parties. New in 2015, DirecTV Super Saturday starts on a Wednesday(!) with music concerts worthy of any fabulous festival, all culminating with an invite-only party no one ever wants to miss.
DirecTV Super Fan Festival
January 28-30, 2015, Pendergast Family Farm – Glendale, AZ
Three days of music. Headliners Calvin Harris, Snoop Dogg, Imagine Dragons and the Zac Brown Band. Alesso, Thomas Rhett, Young the Giant, Ingrid Michaelson, American Authors, Jason Derulo, Sam Hunt, Magic!, The Cadillac Three and Becky G concerts at the HGTV Lodge. Cake-cutting ceremony. Carnival rides. Golf. Test drives. And, can you say, Zip line? Food. The Bud Light Biergarten. The Football Skills Challenge with NFL Hall of Famer Lynn Swann.
DirecTV Saturday Night
January 31, 2015, Pendergast Family Farm – Glendale AZ
A party invite that attracts only the biggest celebrities, athletes and talent. Last year, Jay Z performed, Shark Tank's Mark Cuban co-hosted with New York Giants' quarterback Eli Manning.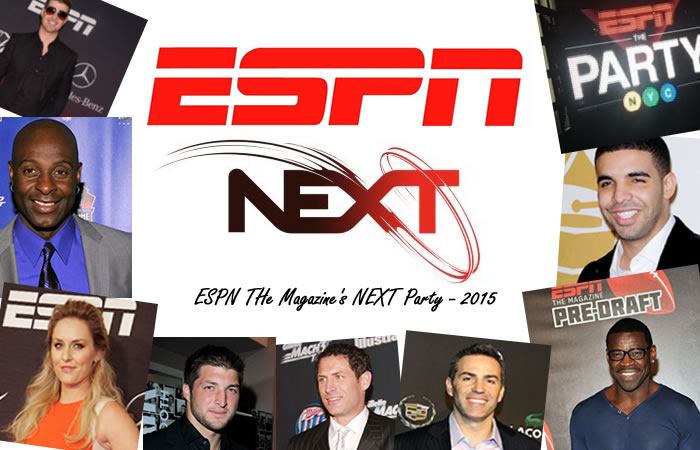 Friday, January 30, 2015, Westworld of Scottsdale – Scottsdale, AZ
The most forward-thinking of all Super Bowl Parties. ESPN The Magazine's annual Friday soiree for the NEXT big thing in sports, technology, lifestyle and more. Taking place at Westworld in Scottsdale, party with A-list celebrities, elite athletes and covergirl models, enjoy all you can eat and drink and see live musical performances such as Drake, Robin Thicke and CeeLo Green.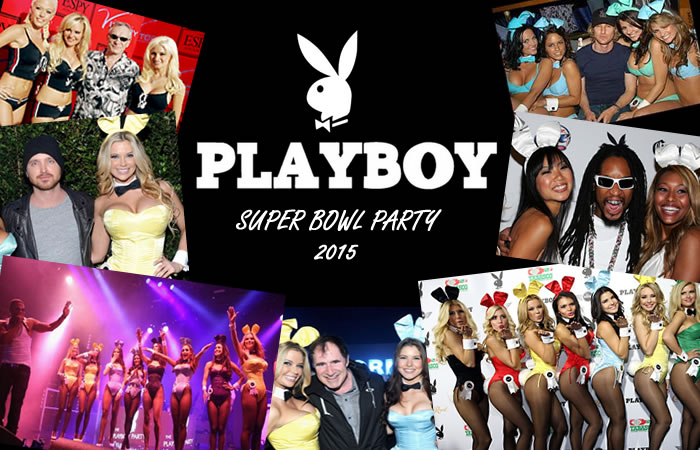 Playboy Super Bowl Party
Friday, January 30, 2015, W Hotel Scottsdale – Scottsdale, AZ
The most legendary of all Super Bowl parties. Not to mention lavish and luxurious. Hosted by Playmates.  Walk the red carpet the W Hotel in Scottsdale with Hollywood's hottest such as Bradley Cooper,Gabrielle Union and Jon Hamm. Have we mentioned lots and lots of Playboy bunnies? You're sure to have a wet and wild time.
Call Bullseye Event Group directly at 888-900-6564 to request tickets to the Playboy Super Bowl Party.

Friday & Saturday, January 30 & 31, 2015, Bentley Project – Phoenix, AZ
The sexiest of all Super Bowl parties. Two hot nights of paparazzi perfection at Bentley Project in downtown Phoenix. A-listers like Anthony Anderson, Jeremy Piven, Roselyn Sanchez, Eddie Cibrian, Kevin Dillon and Kim Kardashian. Definitely the place to be seen.
Fashion, style and selfie-liciousness are the flavor of this party -cool and trendy and oh so sweet. International covergirls and Victoria's Secret models Behati Prinsloo and Lily Aldridge host Friday night; Adriana Lima and Erin Heatherton host Saturday night. Yousa!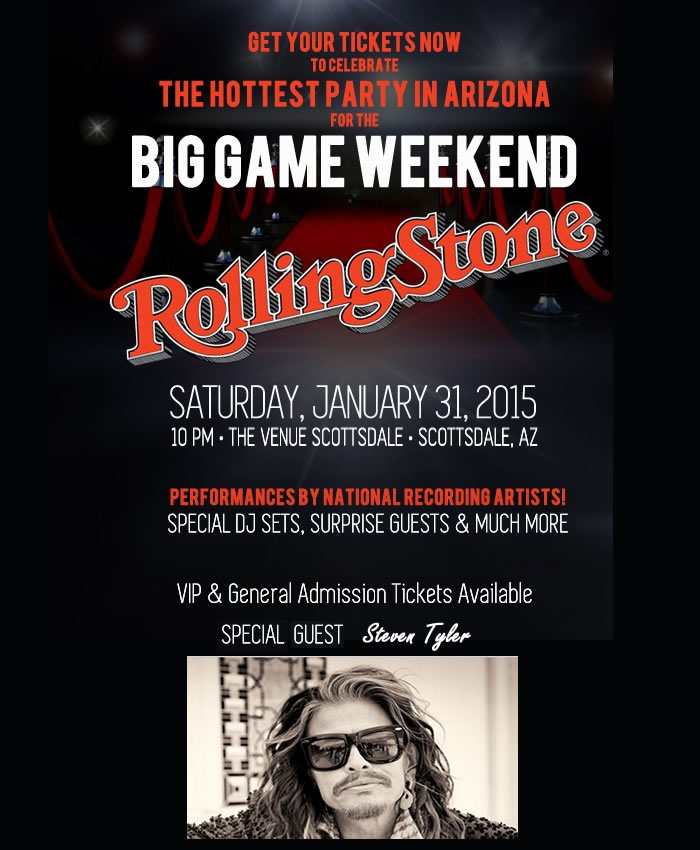 Saturday, January 31, 2015, The Venue Scottsdale – Scottsdale, AZ
The coolest of all Super Bowl Parties. Rock icon Steven Tyler headlines along with Charli XCX of "Fancy," "Break the Rules" and "Boom Clap" fame. It's all happening at The Venue Scottsdale, perfect for this intimate show produced exclusively by Rolling Stone. This party is music heaven for the beautiful people. Past performers include Pitbull, Flo Rida, LMFAO, Cobra Starship, Lupe Fiasco and Gym Class Heroes. It's rumored that up to 1,300 beautiful people are expected to attend, and with general, VIP and table admission options, this party is a true Rolling Stone experience for everyone to enjoy.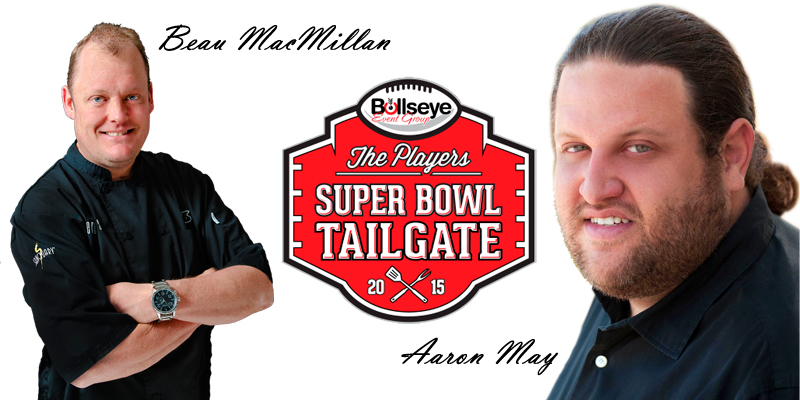 Sunday, February 1, 2015, Tanger Outlets – Glendale, AZ
The best of all Super Bowl Parties. Bullseye Event Group's own Super Bowl pre-game experience, created especially for players and their fans. Takes place on Super Bowl Sunday just two blocks from University of Phoenix Stadium at a custom-decorated, 29,000-square-foot, ultra hospitality lounge where NFL players, celebrities and guests eat, drink and get entertained before the Championship game. ESPN Anchor Lindsay Czarniak returns as emcee, introducing the over 25 active NFL players with her fan-favorite Pick 6 interviews. And there's food. All-you-can-eat, gourmet-planned-and-prepared by local celebrity chefs Beau MacMillan and Aaron May. Dishes such as Mini Beef Wellingtons with Béarnaise, Cured Meats with Grilled Vegetable Antipasto, complete raw bar, Smoke Fried Chicken Po Boys Spicy Pickles, Sriracha Aioli  & Hawaiian Sweet Rolls, Kobe Tri Trip Fragrant Black Bean & Ginger Glaze and Meyer Lemon Tart with Blackberry Merlot Sauce & Blackberry Sorbet. MillerCoors and Pepsi Cola are corporate partners. It's gonna be sweet.
About Bullseye Event Group
Bullseye Event Group is the Official Events and Travel Partner of the Indianapolis Colts. As one of the nation's leading Sports Travel package provider and event ticket companies, Bullseye Event Group is a secure, official source for travel, hotel, pregame parties and tickets, and a direct, dependable source for The Colts VIP Tailgate, Super Bowl XLIX packages, The Players Super Bowl Tailgate, The Masters and event tickets, delivering unforgettable experiences to fans nationwide. Contact us by posting a comment below or by calling 888-900-6564.