100 Days Until Kickoff
Friday, October 24 marks the 100-day countdown to Super Bowl XLIX. As the big game gets closer and closer, the Valley of the Sun is getting primed to host the third Super Bowl in 19 years on February 1, 2015. Good on you, Arizona!
Why was Arizona unanimously selected by NFL owners to return in 2015 for Super Bowl XLIX? Check out the actual video that sold them right here:
What a Difference Five Years Makes
Since hosting Super Bowl XLII in 2008, Phoenix has been transformed into a beautiful, crowd-friendly, vibrant metropolis boasting a re-envisioned downtown and world-class attractions including new hotels, spas, shopping centers and event venues. What else is new?
Book Super Bowl XLIX Packages Here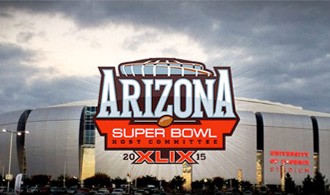 If you haven't booked your trip to Super Bowl XLIX, what are you waiting for? It's not too late to secure one of Bullseye's luxury Super Bowl XLIX Travel Packages, which include event tickets for exclusive parties, the WM Phoenix Open and -most important- upper-level end zone tickets for Super Bowl XLIX at University of Phoenix Stadium. Call us today at 888-900-6564 for more information about our luxury travel packages, group travel planning and individual tickets to additional events and parties (like the Pro Bowl).
About Bullseye Event Group
Bullseye Event Group is the Official Events and Travel Partner of the Indianapolis Colts. As one of the nation's leading Sports Travel package provider and event ticket companies, Bullseye Event Group is a secure, official source for travel, hotel, pregame parties and tickets, and a direct, dependable source for The Colts VIP Tailgate, Super Bowl XLIX packages, The Players Super Bowl Tailgate, The Masters and event tickets, delivering unforgettable experiences to fans nationwide. Contact us by posting a comment below or by calling 888-900-6564.