The 2017 NFL season is officially here! After a seemingly long offseason, we are finally back to football, which means the Indianapolis Colts are back in action, looking to bounce back from a down year in 2016. Recapping what we learned from the team's trip to Los Angeles to take on the Rams in Week 1.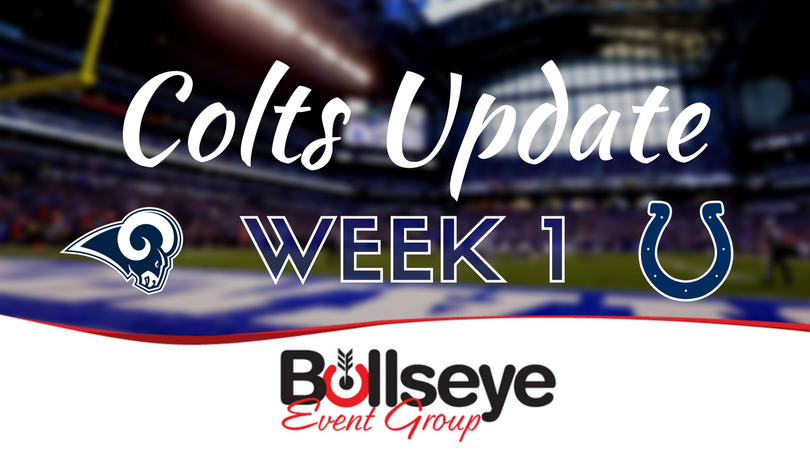 Needing A Little 'Luck'

After the Colts lost to the Rams in Week 1 by a score of 49-6, one thing became incredibly evident in the post game statistics; the Colts desperately need a healthy Andrew Luck.
Backup quarterback and the starter for Week 1, Scott Tolzien, a 7th-year man out of Wisconsin, struggled mightily against the Rams, completing just 9 of 18 passes for 128 yards, no touchdowns and two interceptions, both returned for Rams touchdowns. Late in the game, Tolzien was replaced by the newly-acquired Jacoby Brissett, who was able to complete just two of his three pass attempts, though one being completion of 50 yards to wide receiver Donte Moncrief that would eventually lead to the team's only touchdown of the day.
After the game, Colts head coach Chuck Pagano would not clarify who would start for the team in Week 2 if Luck remained on the sidelines, stating the staff would "look at everything" before making that decision.

A Diamond in the Rough

A glimmer of hope for some of the new young faces on the Colts was rookie running back Marlon Mack. The rookie carried the ball 10 times for just 24 yards, but managed to capture the Colts' first (and only) touchdown of the day in the 4th quarter. Mack also had one reception for 21 yards, and was robbed of a touchdown on the catch early in the 1st quarter when the officials ruled him out at the one-yard-line.

Trust the Process
My first half takeaway:

When Chris Ballard said this was going to take some time, he wasn't kidding.

— Zak Keefer (@zkeefer) September 10, 2017
One thing that new Colts general manager Chris Ballard has preached all year is that the reshaping of this team is going to "take some time," and that the front office is very much planning for the future beyond this season. That "have patience" mantra has been evident in the team's cautious approach to quarterback Andrew Luck's rehabilitation from shoulder surgery, and it was apparent on the field yesterday.

---

The Colts VIP Tailgates are BACK for the 2017 Indianapolis Colts season! With a new general manager and a re-shaped roster, the Colts look to start anew and make a triumphant return to the NFL Playoffs. Don't leave your pre-game plans up to the Indiana weather. Get your 2017 Colts VIP Tailgate tickets today!