Indianapolis, IN (PR Web) September 23, 2014 – On Sunday, September 28 at 1:00 p.m., the Indianapolis Colts battle the Tennessee Titans at home – the game will take place at Lucas Oil Stadium in downtown Indianapolis. Bullseye Event Group, the Official Events and Travel Partner of the Indianapolis Colts, has tickets available for this hotly contested matchup, starting at only $32.48 per seat!
Make It an All-Day Event. Turn your fan experience into an all-day event for the entire family by purchasing tickets to the Colts VIP Tailgate, an exclusive pre-game party hosted by Bullseye Event Group that starts three hours before kick-off at 10:00 a.m. and continues until game time. For the $75 admission price, you can enjoy a lavish tailgating event that includes a full buffet, celebrity appearances, open bar, a live radio broadcast, plus much more!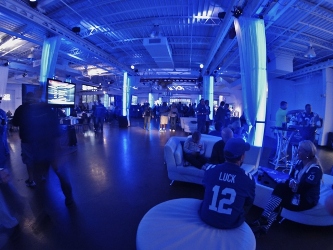 The Colts VIP Tailgate at the Crane Bay Events Center is the ultimate pre-game fan experience that expands the 18,000 square feet of outdoor and indoor party space. Launched before the Colts season home opener on September 15, over 600 fans mingled with members of the Colts cheerleading squad, met former Colts players like Gary Padjen, the Vice President of the NFL Alumni Association Indianapolis Chapter and owner of the Crane Bay, watched live HD pre-game coverage on flat screen TV's and the live radio broadcast of ESPN 1070's The Fan with JMV and Big Joe Staysniak and bid on a wide variety of Colts and sports memorabilia sure to delight and excite any football fan. And that's not all.
The Colts VIP Tailgate experience features a premium buffet catered by Ruth's Chris Steakhouse and Another Broken Egg Cafe, with Kobe Beef sliders, Ruth's Chris filets, shrimp and grits, scrambled eggs, Caesar salad, mashed potatoes and more. Guests enjoy an open cocktail bar with top-shelf drinks provided by Jim Beam, an open beer and wine bar courtesy of Miller, Coors and Heineken and kid-friendly refreshments from Coca-Cola.
Purchase tickets now for both the Colts VIP Tailgate and the Colts vs. Titans game online at BullseyeEventGroup.com. Fans can also make purchases for all future Colts VIP Tailgate events, Colts home and away games as well as any NFL football game in the country by visiting Bullseye's discount ticket microsite and searching for your favorite team. For more information, visit Bullseye Event Group's website or call one of our customer service specialists at 317-299-4444.
About Bullseye Event Group
Bullseye Event Group is the Official Events and Travel Partner of the Indianapolis Colts. As a secure, official source for travel, hotel, pregame parties and tickets, Bullseye Event Group is a direct and dependable source for The Colts VIP Tailgate, Super Bowl XLIX packages, The Players Super Bowl Tailgate, the Masters and event tickets, delivering unforgettable experiences to fans. To learn more, visit BullseyeEventGroup.com.