Bullseye Event Group honored with inclusion on Inc.'s 5000 Fastest Growing Companies in America
August 18th, 2017 by Bullseye Event Group
Bullseye Event Group is excited to announce the company's inclusion on the prestigious Inc. 5000 list of Fastest Growing Companies in America.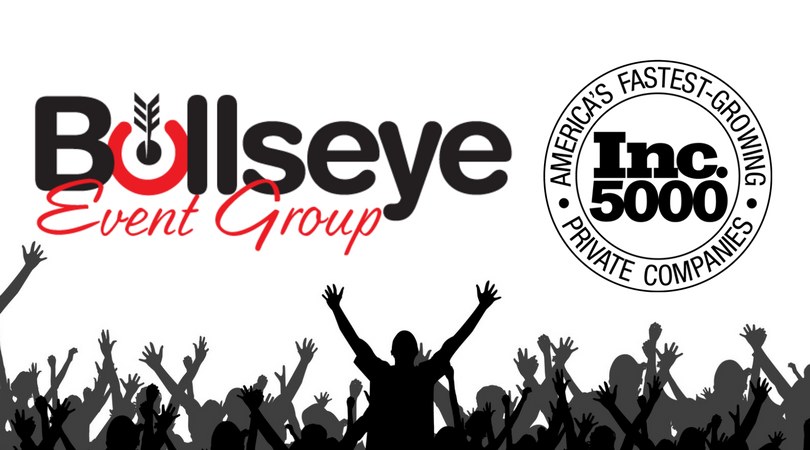 Knowledge is everything, and in 2005 Bullseye Event Group began building the hospitality side of the business. This is where Bullseye Event Group has seen the rapid growth.
"There is a greater need for more than just an event ticket, and we had the vision to say people are buying once in a lifetime experiences, so let's provide them once in a lifetime hospitality," Bullseye Event Group CEO Kyle Kinnett said. "Being included on the Inc. 5000 list of Fastest Growing Companies in America is an incredible honor, and we are proud to represent some of the fastest growing companies in the country"
Bullseye Event Group has staked its claim as the premier hospitality provider for sporting events all around the world. From The Colts VIP Tailgate, Gate 6 Hospitality at the Masters, The Players Tailgate at the Super Bowl and more, we are and proud to be the Industry leader in hospitality. Partnerships range from the Indianapolis Colts, the New Orleans Pelicans and StubHub Live. Some of the most recognizable brands in the food and beverage industry, such as Coca Cola, Maker's Mark, Anheuser-Busch, Frank's RedHot, Miller-Coors, Heineken, all have partnerships with Bullseye Event Group.
With over 40 active NFL players and some of the world's biggest celebrities, Bullseye's signature event, the Players Tailgate, rated the #1 event Super Bowl weekend in Houston in 2017, promises to be the biggest and best pre-game event in Minneapolis ahead of Super Bowl LII in 2018. America's favorite chef, Guy Fieri, returns to create the VIP menu, joined by the greatest caterer in America, chef Aaron May, and a team of celebrity chefs hand-selected by Fieri himself.
In recent years, the Players Tailgate party at the Super Bowl has earned a reputation of hosting some of the biggest celebrities in the industry, including 2016 emcee Erin Andrews, Victoria's Secret model Adriana Lima, world-renowned tennis pro Caroline Wozniacki, and Super Bowl champions and perennial Pro Bowl players of the past and present.
About Bullseye Event Group
The official events, travel and hospitality partners of the Indianapolis Colts and New Orleans Pelicans, Bullseye Event Group has earned a reputation as being an industry leader in event hospitality prior to some of the biggest sporting events in the United States. Best described as "culinary events," Bullseye's official VIP events offer the opportunity to both see and be seen by some of the biggest names in the entertainment and sporting industries. To learn more about Bullseye Event Group, visit BullseyeEventGroup.com.