Bullseye Event Group will turn a 29,000-square-foot building into a VIP Super Bowl tailgating experience, custom-made for the company's signature pre-game party that has earned a reputation among NFL players and fans as the "premiere Super Bowl game day experience."
Indianapolis, Indiana (PRWEB) January 7, 2014 – Bullseye Event Group, one of the nation's leading Sports Travel package provider and event ticket companies, will host The Players Super Bowl Tailgate at the future home of a major high-end retailer at Tanger Outlets in Glendale, Arizona,  just two blocks away from University of Phoenix Stadium where Super Bowl XLIX takes place Sunday, February 1, 2015.
Before the retailer takes occupancy, the 29,000-square-foot building will be transformed into a first-class space worthy of Bullseye's signature pre-game party that has earned a reputation among NFL players and fans as the "premiere Super Bowl game day experience."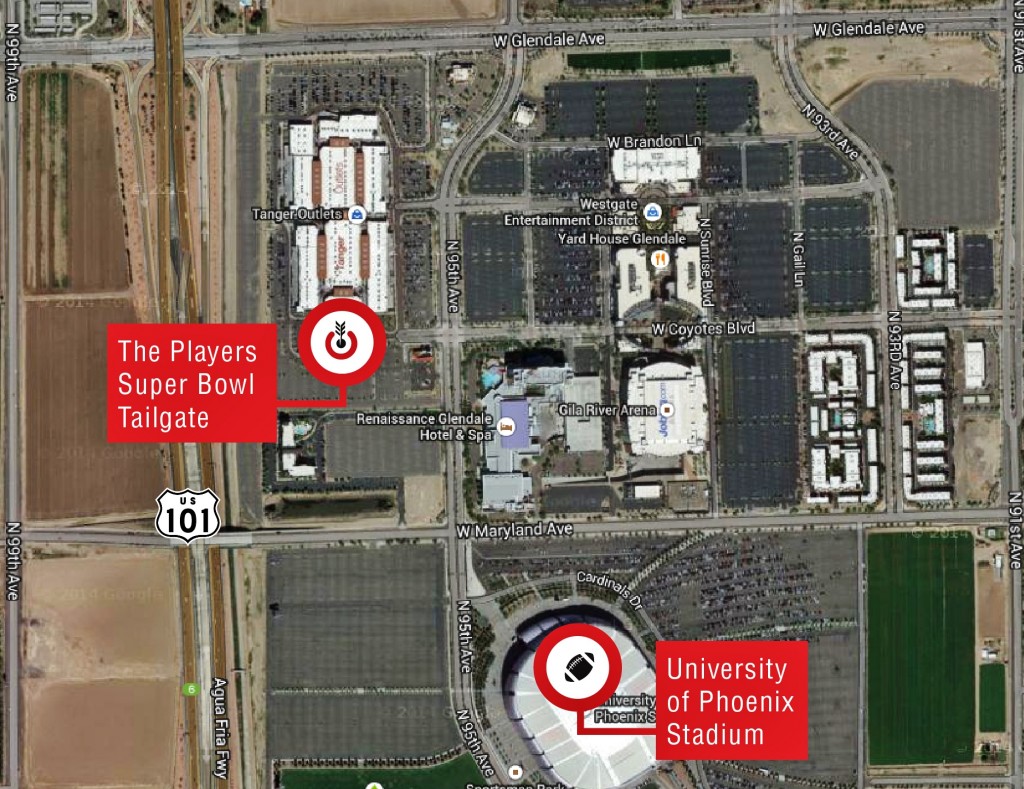 "Our custom venue is going to amaze our guests," says Bullseye Event Group representative Kyle Kinnett. "Corporate groups and fans alike will be treated to all the comforts of a high-end hospitality center while enjoying a five-star tailgating experience."
The 2015 Players Super Bowl Tailgate venue will be filled with private party areas and high top tables, and the amount of soft leather furniture will make the atmosphere one of a high-end lounge made especially for VIP tailgating.
"The permanent structure is being transformed into a luxury tailgate experience," Kinnett says. "Guests are going to experience ESPN Game Day Super Bowl pre-game coverage on four large jumbo television screens and 24 large 55-inch flat screens. Located just two blocks from the stadium, within walking distance, will make logistics simple for corporate groups and fans alike on game day. While we offer all the comforts at this first class hospitality center, I think being able to park corporate group buses right outside the door for the Super Bowl is extremely attractive."
Bullseye Event Group has hired Scottsdale, AZ-based R Entertainment, a leader in the event production industry, to help coordinate the look, feel and design as well as the logistics of the company's exclusive pre-game Super Bowl party.
"This is not your typical tailgate, this is the Bullseye Event Group Super Bowl VIP Tailgate," Kinnett says. "This event boasts 25+ active NFL players in attendance. These are not retired NFL players, these are the players you see playing every Sunday."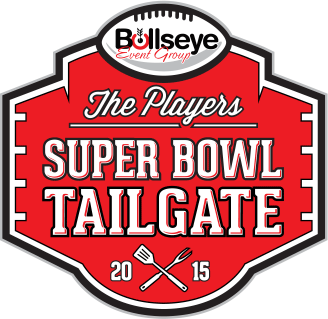 Active NFL players who have been guests of the Players Super Bowl Tailgate include WR Marvin Jones, Jr., RB Joique Bell, LB Brian Orakpo, CB Antonio Cromartie, LB Mychal Kendricks as well as Super Bowl Champions Vonta Leech, Plaxico Burress, Terrell Thomas and Hall of Famer Michael Strahan, who also hosted the event in 2013.
"We're excited to have MillerCoors and Pepsi Cola as corporate partners of the 2015 Players Super Bowl Tailgate," Kinnett says. "Having two of Arizona's top celebrity chefs Beau MacMillan and Aaron May creating the menu and preparing the food makes this as much a culinary experience as it does an exciting tailgate."
Chef Beau MacMillan and Chef Aaron May join a celebrated line-up of chefs local to previous Super Bowl host cities who have treated guests at The Players Super Bowl Tailgate to lavish gourmet dining, including Chef Marcus Samuelsson in New York for Super Bowl 48 and Chef John Besh in New Orleans for Super Bowl 47.
Bullseye Event Group's Players Super Bowl Tailgate starts at 11:00 a.m. on February 1, 2015 and features five hours of all-you-can-eat, five-star dining and an open premium bar. ESPN's Lindsay Czarniak returns to MC for the second year in a row, dazzling the crowd with her Pick 6 interviews similar to the weekly SportsCenter segment on ESPN Front Row where she asks an NFL player three questions and the player reveals three things about themselves fans might not know. Entertainment has included Cirque USA, national recording artists and Vy Higginsen's Harlem Gospel for Teens Choir.
Tickets for The Players Super Bowl Tailgate can be purchased online at BullseyeEventGroup.com. Call 1-317-800-5820 to purchase tickets with a game day transfer.
About Bullseye Event Group
Bullseye Event Group is the Official Events and Travel Partner of the Indianapolis Colts. As a secure, official source for travel, hotel, pre-game parties and tickets, Bullseye Event Group is a direct and dependable source for The Colts VIP Tailgate, Super Bowl XLIX packages, The Players Super Bowl Tailgate, the Masters and event tickets, delivering unforgettable experiences to fans. To learn more, visit BullseyeEventGroup.com.