Indianapolis, IN (PRWEB) September 30, 2014 – Bullseye Event Group, one of the nation's leading Sports Travel package provider and event ticket companies, announces their latest travel package, a complete booking and travel experience with the Talking Stick Resort and Casino near Phoenix, AZ, host city of the 2015 Super Bowl.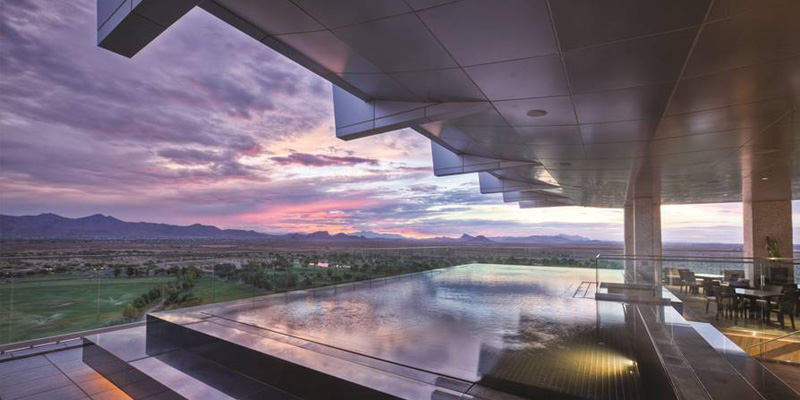 The Talking Stick Resort is home to pristine desert views, 5-star dining, a 13,000 square foot spa, a gorgeous infinity pool – and that's not all. Not only can golf enthusiasts play on one of the top rated golf courses in Scottsdale, they can enjoy the hospitality of a top rated golf club in all of Arizona. Meanwhile, shopping enthusiasts can take their shopping experience to the luxurious level in Old Town Scottsdale, just three miles away.
In addition, gaming at Talking Stick Resort is a popular resort activity. Rated as one of the best casinos in  Arizona, the Casino's main floor includes more than 50 table games, including Blackjack, Let-It-Ride and 3 Card Poker among others.The Casino also holds Arizona's largest poker room, known as The Arena Poker Room, which features favorite poker games as well as daily, weekly and monthly tournaments, and over 800 slot machines – all open 24 hours a day during Super Bowl Weekend.
Bullseye's luxury travel package includes premium accommodations for three nights, Upper Level End Zone to Corner tickets to Super Bowl XLIX on February 1, 2015 (ticket upgrades are available), admission to The Players Super Bowl Tailgate, round trip game day transportation to and from the University of Phoenix Stadium and more.
The Bullseye Event Group Players Super Bowl Tailgate is a once-in-a-lifetime pre-game event that Super Bowl attendees won't want to miss. This event is scheduled to take place from 11:00 a.m. – 4:00 p.m. on the day of the Championship game, and will include a premium open bar, five-star food menu, celebrity guests, appearances by current and former NFL greats and much, much more.
If you would like more information on pricing or if you are ready to make a purchase, contact one of our professional customer service specialists today at 888-900-6564, or visit the Bullseye Event Group Website to book your Super Bowl Travel Package.
About Bullseye Event Group
Bullseye Event Group is the Official Events and Travel Partner of the Indianapolis Colts. As a secure, official source for travel, hotel, pre-game parties and tickets, Bullseye Event Group is a direct and dependable source for The Colts VIP Tailgate, Super Bowl XLIX packages, The Players Super Bowl Tailgate, the Masters and event tickets, delivering unforgettable experiences to fans. To learn more, visit BullseyeEventGroup.com.