Indianapolis, IN (PRWEB) September 16, 2014 – Bullseye Event Group, one of the nation's leading Sports Travel package provider and event ticket companies, announces their latest travel package, a complete booking and travel experience with JW Marriott Scottsdale Camelback Inn Resort & Spa near Phoenix, AZ, host city of the 2015 Super Bowl and home to luxurious hotels, spas, shopping centers, sporting events, as well as shows, concerts and more.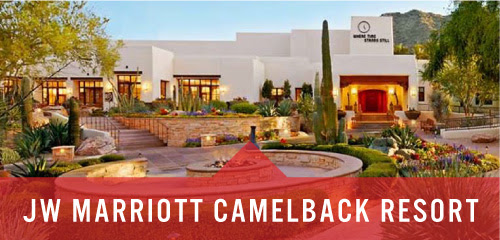 The JW Marriott Scottsdale Camelback Inn Resort & Spa is located in Scottsdale, AZ, just minutes away from the University of Phoenix Stadium, where Super Bowl XLIX takes place on February 1, 2015. Also located in the area is the Scottsdale Fashion Square, which houses luxury retailers Louis Vuitton, Barney's New York, Bulgari, Cartier, Burberry, Gucci and others.
The JW Marriott Scottsdale Camelback Inn Resort & Spa could be your home for a luxurious 4-day Super Bowl weekend. This resort and spa embraces the future and welcomes the next generation of guests into its harmonious blend of creature comforts mixed with a storied history. The resort has two championship golf courses on site, an award-winning in-house spa and casita rooms brimming with amenities and indulgence.
The entire Phoenix metro and surrounding area is known for outdoor activities like golf, swimming, hiking and biking, and hosts a wide variety of attractions like the Phoenix Zoo, the Desert Botanical Gardens and the Phoenix Art Museum. If you are looking for an active nightlife, Old Town Scottsdale has a wide selection of restaurants, galleries and attractions that are just three miles from the resort.
In addition to luxury hotel accommodations, all Bullseye Event Group Travel Packages include prime seating tickets to the NFL Championship game, party access to The Players Super Bowl Tailgate and more. Bullseye Event Group offers the ultimate turnkey sports package options, removing the laborious process of sourcing individual travel needs. Bullseye can also custom design any package beyond the standard advertised package to specific interests. Whether traveling with family, friends or corporate guests, Bullseye Event Group will make your 2015 Super Bowl experience a memorable one.
To request pricing for travel packages including a stay at the JW Marriott Scottsdale Camelback Inn Resort and Spa, visit the Bullseye Event Group website or call (888) 900-6564 at let one of our professional customer service specialists help you.
About Bullseye Event Group
Bullseye Event Group is the Official Events and Travel Partner of the Indianapolis Colts. As a secure, official source for travel, hotel, pregame parties and tickets, Bullseye Event Group is a direct and dependable source for The Colts VIP Tailgate, Super Bowl XLIX packages, The Players Super Bowl Tailgate, the Masters and event tickets, delivering unforgettable experiences to fans. To learn more, visit BullseyeEventGroup.com.