Renowned local chefs Beau MacMillan and Aaron May will collaborate on a creative dining experience for the exclusive pre-game Super Bowl party in Phoenix.
Indianapolis, Indiana (PRWEB) December 4, 2014 – Bullseye Event Group, one of the nation's leading Sports Travel package provider and event ticket companies, announces two of Phoenix's top chefs will collaborate on a creative catered menu for the company's exclusive Players Super Bowl Tailgate, a pre-game Super Bowl party that has earned a reputation among NFL football players and fans as the "premiere Super Bowl game day experience."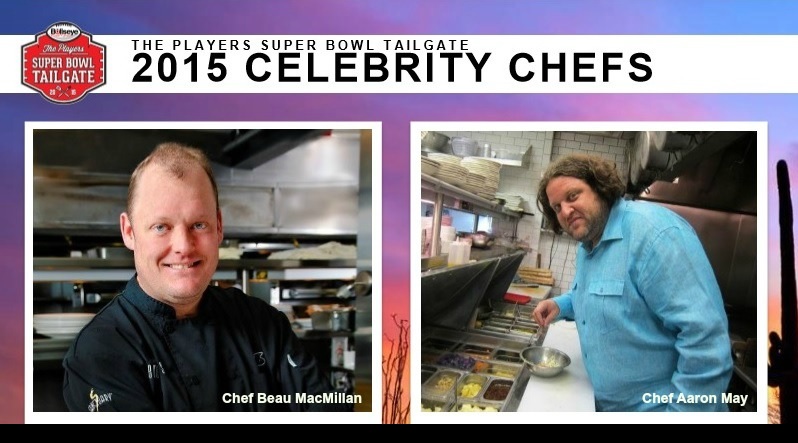 Chef Beau MacMillan and Chef Aaron May join a celebrated line-up of chefs local to previous Super Bowl host cities who have treated guests at The Players Super Bowl Tailgate to lavish five-star dining, including Chef Marcus Samuelsson in New York for Super Bowl 48 and Chef John Besh in New Orleans for Super Bowl 47.
"We are thrilled to have not just one but two superstars of the local food scene selecting the menus and catering The Players Super Bowl Tailgate," says Bullseye Event Group representative Kyle Kinnett. "Chef MacMillan and Chef May are excited to continue our tradition of preparing the kind of culinary touchdown for our guests that we're known for."
Beau MacMillan is the award-winning Executive Chef of Sanctuary on Camel Mountain and its signature restaurant, elements. The Food Network star and Iron Chef America winner who is famous for defeating Iron Chef Bobby Flay has a passion for fresh ingredients, locally farmed produce, meats and artisan delicacies. His culinary innovation has garnered national recognition and acclaim, landing him guest appearances on NBC's The Today Show five times, as well as Food Network favorites Best Things I Ever Ate and Guy's Grocery Games, and hosting duties on Worst Cooks in America. In addition to serving as personal chef for Wayne Gretzky and his family, Chef MacMillan has prepared meals for President Bush, Britney Spears, U2, Michele Richard, Jacques Pepin, Michele Roux Sr., The James Beard House and Bon Appetit Magazine.
Aaron May is the restaurateur and local culinary legend behind several Paradise Valley restaurants, including Over Easy, 18 Degrees, The Lodge and Mabel's on Main among others. Chef May was classically trained in Paris at the Ecole Ritz Escoffier before being inducted into the Arizona Culinary Hall of Fame in 2010 as a "Chef Extraordinaire." He has been featured on Food Network's wildly popular Diners, Drive-Ins and Dives and TLC's Best Food Ever. His fiercely loyal fan base has recognized him with many local awards, including "Best Tapas" and "Best Speakeasy," and he has also garnered attention from national publications such as Food & Wine, Condé Nast Traveler, Sunset Magazine and USA Today.
Bullseye Event Group hosts the Players Super Bowl Tailgate on February 1, 2015 from 11:00 a.m. to 4:00 p.m., featuring all-you-can-eat, five-star dining and an open premium bar. The Players Super Bowl Tailgate has over 25 active NFL players in attendance, and the list has included Super Bowl Champion and Hall of Famer Michael Strahan, who also hosted the event in 2013, and ESPN's Lindsey Czarniak, who hosted the event in 2014. Entertainment has included Cirque USA, national recording artists and the Harlem Teen Choir.
Tickets for The Players Super Bowl Tailgate are now available 1) as part of Bullseye's Event Group's Super Bowl 2015 Travel Packages and 2) as single event tickets.
About Bullseye Event Group
Bullseye Event Group is the Official Events and Travel Partner of the Indianapolis Colts. As a secure, official source for travel, hotel, pre-game parties and tickets, Bullseye Event Group is a direct and dependable source for The Colts VIP Tailgate, Super Bowl XLIX packages, The Players Super Bowl Tailgate, the Masters and event tickets, delivering unforgettable experiences to fans. To learn more, visit BullseyeEventGroup.com.