A unique partnership with Comerica Park the home of the Detroit Tigers and Detroit Lions will allow Lions fans the easiest and most luxurious gamely tailgate experience for the Cowboys vs Lions and the Thanksgiving game against the Bears.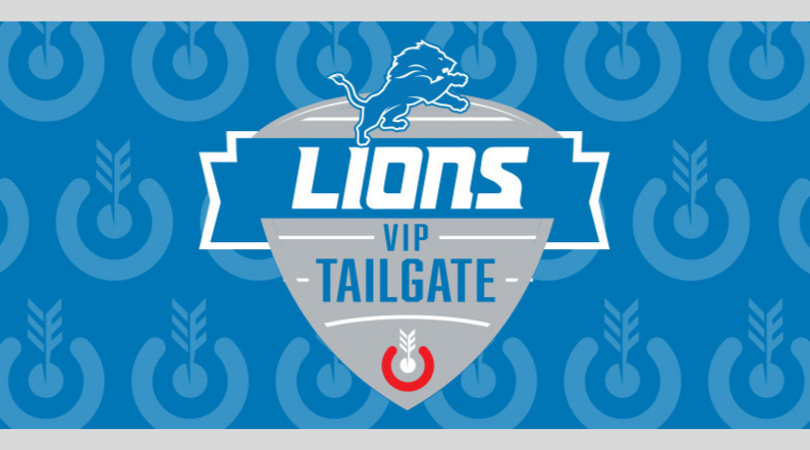 DETROIT, MI — Bullseye Event Group is excited to announce a unique partnership Comerica Park the home of the Detroit Tigers to host the new Lions VIP Tailgate before two Detroit Lions home games this season (full season next year). The Cowboys vs Lions and the Thanksgiving Bears vs Lions are the 2 featured games for the 2019 season.
Located at Comerica Park directly across from Ford Field, a luxurious tailgating experience awaits Lions fans. The Lions VIP Tailgate is a high end luxurious tailgating experience with all you can eat food for 3 hours, open bar for 3 hours for all ages, corporate groups and all fans at an affordable price.
"Although baseball season is coming to a close, the football season is in full swing Bullseye Event Group CEO Kyle Kinnett said. "We are excited to expand our VIP hospitality platform to Detroit and Lions fans on these 2 marquee games."
The Venue — Comerica Park
Located in the Tigers Den, featuring dramatic views of Ford Field, the Lions VIP Tailgate offers fans the easiest and most luxurious game day experience. Whether it's 75-degrees outside or freezing cold, the indoor Tigers Den offers a premier tailgating experience features three bars, multiple soft leather lounge seating areas and plenty of TV's featuring ESPN game day coverage.
The Menu
Food Network celebrity chef Aaron May has been named the head chef for the Lions VIP Tailgate. Touting a menu created exclusively by chef extraordinaire May, classically trained in Paris at the Ecole Ritz Escoffier and a member of the Arizona Culinary Hall of Fame, May has been featured on signature Food Network staples such as Diners, Drive-Ins and Dives, Guy's Grocery Games, Guy's Big Bite and TLC's Best Food Ever. The 2019 Lions VIP Tailgate menu includes all you can eat:
Menu to include grilled filet mignon, mac and cheese, roasted vegetables, assorted hot sauce and barbecue sauce, Bullseye 12-hour pulled pork, twice cooked chicken wings, taco and nacho fiesta, fresh doughnuts and gourmet waffle bar, hand tossed farmers market salads and passed entrees of gourmet cheeseburgers. Minor menu changes periodically.
Special Thanksgiving Day Menu: Roast turkey with a mustard maple bacon gravy, smoked turkey with bourbon and cranberry glaze, bread basket, condiment and cheese for sandwich making. Mashed potato, loaded with bacon, green onion and cheddar cheese, sweet potato au gratin whipped and topped with cinnamon marshmallow, BBQ carrots with local honey and red chile, Green bean casserole with chanterlle mushroom, cornbread stuffing with herbs, butter and bacon, sage stuffing with sausage, Green salad with fall farmers market vegetable, pecan pie, apple pie, cranberry and grapefruit tart
The Details

Located directly across the street from Ford Field inside Comerica Park

Open three hours prior to kickoff

DJ

Premium buffet exclusively created by Food Network Celebrity Chef Aaron May

Open, top-shelf cocktail bar

Open beer and wine bars featuring bottled beer and bottled wine from Miller Coors and Heineken.

Refreshments from Pepsi.

All ages are welcome.

Visits from Lions cheerleaders, former Lions players and NFL alumni.

Climate controlled lounge seating with soft leather couches.

Pre-game HD TV coverage.

Microsoft gaming area inside the Lions VIP tailgate that has 10+ Xbox gaming stations.

Live auction on amazing signed Detroit Lions memorabilia.


About Bullseye Event Group
Bullseye Event Group works in an official capacity with multiple NFL teams, NBA Teams and Universities as the official events and travel partner, the hospitality partner or tailgate partner. The Indianapolis Colts, New Orleans Saints, Detroit Lions, New Orleans Pelicans, Northwestern University and Indiana University.
Bullseye Event Group has earned a reputation as being an industry leader in event hospitality prior to some of the biggest sporting events in the United States. Best described as "culinary events," Bullseye's official VIP events offer the opportunity to both see and be seen by some of the biggest names in the entertainment and sporting industries.
Bullseye Event Group offers fans VIP experiences as a secure, official source of travel, hotel, pre-game parties and game tickets. Bullseye is a direct and dependable source for tickets to the Colts VIP Tailgate presented by Hays + Sons, the Saints VIP Tailgate, the Lions VIP Tailgate, Super Bowl 54 Travel Packages, the 2020 Players Tailgate at Super Bowl 54 in Miami, Gate 6 Hospitality at The Masters and more. To learn more about Bullseye Event Group, visit BullseyeEventGroup.com or call 317-800-5820.