Get in gear, and get your gear together! We've got a list of what you should bring to Super Bowl 50:
Jerseys
Even if your team already lost, you have to support one squad over the other. Unless you're going to the Super Bowl just for the halftime show. If that's the case, all you need to bring into the stadium is your phone, so you can take selfies.
Tickets
Well, duh. If you're going to the game, you're going to need Super Bowl 2016 tickets. Yes, don't forget that even though it's the 2015 NFL season, it will be the 2016 Super Bowl. Don't ask us why, it's confusing to us as well. Make sure you know where your tickets are physically located, things fall out of your back pockets all the time!
Your Phone
Bring it with you to Super Bowl 50 fully charged. It's your ticket to the world. Maybe turn on your "Find My Phone" app because you might forget about it in all the excitement.
Clear Plastic Bag Rules
Obviously there's going to be more security at the game, Levi's stadium is implementing the clear-bag policy. There are things you can't bring to the game. Don't bring big bags, don't bring anything stupid. And security will be tight! Also, no fanny packs. That one is important. The stadium also won't allow alcohol, fireworks, beach balls, beverages, or noisemakers. Full info on what you can bring into the stadium here.

A Really Cool Hat
Bring cool headgear to show off your style. If the Packers make it to the Big Game, that base is already covered, but for everyone else, go nuts. Don't bring something too big otherwise the people sitting behind you won't be able to see!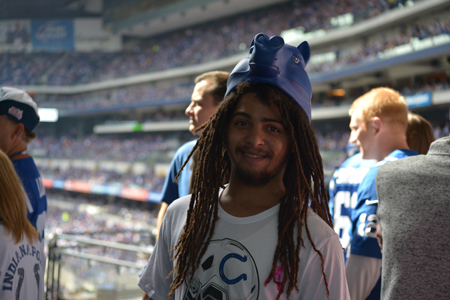 We're going to take this time to say, don't bring face paint. It melts. It gets gross. You forget it's there and it smears. You can go for the traditional two black stripes on the cheeks. But anything more and you'll end up with blue paint on your hot dog.
Manners
Yes. You're going to need to bring your best behavior. There will be thousands of people in the Bay Area, most will be tourists. It's going to get hectic, and crazy. Take a breath, and maybe try to make friends with the cool couple sitting next to you in the stadium while you're waiting for the game to start.
Hype
Get loud! You're going to the biggest, baddest, best sports event of the year! Bring the hype! Be obnoxious on social media, and tell all your friends you're going to the Super Booooowwwwwlll! You're about to see who will become the best football team in the world! You're watching history! Hoo-rah!
Someone You Like
The last item on our list is probably the most important: bring a calm person with you to the game. You'll be spending a lot of time next to each other. Make sure your friend is good under pressure, good working out logistics, and good at having fun. You'll be making memories for a lifetime here. All your pictures you're going to show your grandkids will have whoever you're sitting next to in them as well, so maybe he or she should be good looking too.
Now that you've got all your stuff together, who's ready for Super Bowl 2016? The game is Sunday, that's Super Bowl Sunday, February 7th at Levi's Stadium in Santa Clara California. It looks like security will allow people to enter the stadium starting at 11:00 a.m. That seems a little early to us, by then we won't even have eaten brunch!