Billy Joel's Historic Residency at Madison Square Garden
February 3rd, 2014 by John Nichols
When American music icon Billy Joel announced in early December that he is set to play Madison Square Garden once a month "for as long as there is demand," MSG Executive Chairman James Dolan gushed, "Billy, having you as our music franchise feels a little like having the Pope as your parish priest. I'm truly an admirer and I grew up with your music, too, and so I'm thrilled to death."
And so it was, when on January 27, Billy Joel became the first-ever franchise act at the Garden, playing to a packed crowd that witnessed history in the making, and loved every note of it.
"No other rock star has ever attempted anything like this: a gig a month for as long as he wants, on his home turf, in the white-hot spotlight of the world's most famous rock arena. His house. A crazy scheme? Maybe. But as the great man has spent his career proving, you should never argue with a crazy mind."
-Rolling Stone
What Happens in Vegas?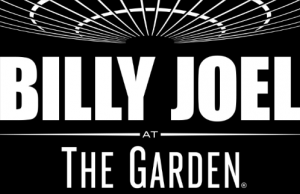 Big-name artists have been playing Las Vegas venues for years, inking deals for extended engagements. But Billy Joel is the first singer-songwriter to set up a residency at a major arena, and the once-a-month scheduling is also a first. Additional Garden shows are booked every month through May, and likely to be extended, given fan enthusiasm. He even has his own logo!
Billy Joel was recently honored at the 36th Annual Kennedy Center Honors, which celebrate five individuals "who have spent their lives elevating the cultural vibrancy of our nation and the world." The Piano Man has come out of a three-year hiatus for a road tour and whole lot more.
At the inaugural Garden concert, Billy Joel came out singing, "Miami 2017 (Seen the Lights Go Out on Broadway)," then continued with crowd-pleasers "Pressure," "The Longest Time," "Allentown," "Movin' Out (Anthony's Song)," "Zanzibar," "She's Always a Woman," "Scenes From an Italian Restaurant," "The Entertainer," "The River of Dreams," and of course, "Piano Man" and "New York State of Mind." The audience was also treated to an encore, which included "Big Shot," "It's Still Rock and Roll to Me," "You May Be Right," and "Only the Good Die Young." Music aficionados agree – it's great to have Billy Joel back at the piano belting out hits.
In fact, Billy is playing tonight!
Tickets are available for the February 3 show –and all the other concert dates- at Bullseye's discount ticket site, Tickets.BullseyeEventGroup.com.
Photo credit: Madison Square Garden #BillyJoelMSG