Look, you're hungry. You've got football to get to. Maybe you have a great Super Bowl tailgate to look forward to later in the day. That's why it's a good idea to scope out all the best breakfast places before you head out. Whether you're checking out breakfast menus months, days, or even minutes before you head out, these are some great spots for a Super Bowl breakfast!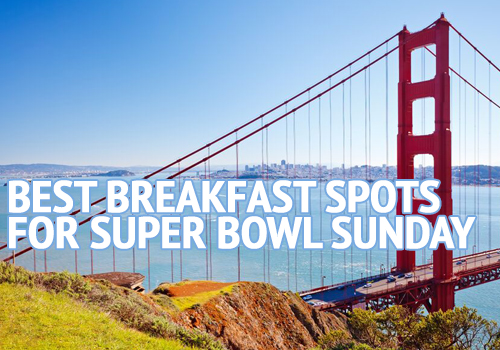 Brenda's French Soul Food
You might have to wait to get in, (or you can always sit at the counter) but it's worth it. Brenda's French Soul Food is a great place for a Super Bowl pre-game, pre-tailgate breakfast. Get some beignets if you're a fan of sweet donuts with your coffee. Their biscuits are also worth a mention. Or try the shrimp and grits. Really, you can't go wrong!
652 Polk St, San Francisco, CA 94102
Dottie's True Blue Cafe
If you're not in a hurry (no reservations) it's worth it. Dottie's True Blue Cafe pastries made in-house are a wonderful way to start the morning. And if you decide to eat here more than one morning you're staying in San Francisco, either for vacation or for the Big Game, they rotate out. So, you'll have a new selection. The sausage scrambles are also worth a bite. Happy breakfast!
28 6th St, San Francisco, CA 94103
Zazie
This is a great little French bistro. Zazie's is popular with the brunch crowd. There are longer lines, but they move quickly. They offer the breakfast favorites, and sometimes with a twist. Zazie's menu prices might look higher at first glance, but they include the tip already, so don't freak out! Their menu gives you a good idea of what to expect, so you can already know what you want before you even arrive.
941 Cole St, San Francisco, CA 94117
The Butler and the Chef
If a place is known for something, it's a safe bet it'll be good. The Butler and the Chef is recognized particularly for their croque monsieur. It's another tiny French bistro great for breakfast, but extends into lunch. Good quiche. Again, as is the norm in the city, be prepared for a bit of a wait. But the fully belly at the end is always worth it.
155 S Park St, San Francisco, CA 94107
Mama's on Washington Square
They serve breakfast all day. And the line to get into Mama's usually wraps around the corner. That should tell you something about how good the food is. They serve homemade jam by the way, and very yummy french toast! As a side note, it's a cash-only place. You've been warned.
1701 Stockton St, San Francisco, CA 94133
Sweet Maple
You want the southern benedict with a side of millionaire's bacon. Food of the gods. Sweet Maple is a great local San Francisco spot. If you want a fully belly before getting ready for the Super Bowl 50 festivities, this is a pretty great option. Also, their Instagram is worth a gander if you have a chance. But make sure you're already full, otherwise you'll be starving in seconds!
2101 Sutter St, San Francisco, CA 94115
Bonus: Bambino's Ristorante
Bambino's Ristorante earned a spot on our list for one very, very good reason. They deliver. They deliver brunch. You can have eggs benedict delivered. You have the option of eating in your pajamas. The world is a wonderful place.
945 Cole Street San Francisco, CA 94117
If you plan where you're going beforehand it won't be a breakfast scramble to get some good food. Or you could always wing it, and just walk around near your hotel. Chances are your Super Bowl package includes a hotel in a great area. Because San Francisco is a great place for food, you can't go wrong!
If you always plan everything three months in advance you want to know where you're going, when you're eating, and what's on the menu. If there's a great place you love to eat at for breakfast in the Bay Area that's not on our list, let us know! But, a tip to the smart breakfast patron, get there early! These tables fill up fast. And with more people in town for the Super Bowl, it's only going to get crazier.