Here's what you've got to have to prove you're a die-hard, bleed-blue, Indianapolis Colts fan. No matter what season it is. Even though, we're pretty excited this season has finally, finally started.
Spring
Jerseys
First, the basics. Jerseys. You need them in both blue and white, because you have to wear something on the days you're not wearing the blue one. Summer is the best time to stock up on all best new rookie's jerseys, before they get way too expensive. Eventually you'll have a whole closet full of jerseys with a mix of both present and past players.
Baseball Caps
Ah, the good ol' reliable baseball cap. Everyone owns at least one. Practically everyone in Indianapolis has that one sitting in the back of the car; the faded dark blue one that's got a hole in it and is a completely different color if you turn it inside out. They're the classic paraphernalia for the casual Colts fans, and the fans who'll support the Colts cradle to grave.
Summer
Colts Sunglasses
It's that perfect Indianapolis summer weather, for one week in late May, the temperature isn't too hot. It's not yet too humid; it's not raining or hailing. It's perfect. Time to break out the Colts sunglasses, so all you see is the Colts.
Colts Bucket Hats
How do you know it's time for Colts Training Camp to start? (link to training camp) These strange hats starts appearing everywhere. They have a drawstring. They have a flat top. They're the only piece of Colts gear that doubles as fishing equipment. They're definitely the sexiest Colts gear option you can pick up.
Fall
Colts Pajamas
Put your money where your mouth is. If you say you sleep, eat, and breathe, Colts. Then put on your Colts pajama pants and prove it!
Colts Belt
Super Colts fan Michael Hopson is not only the biggest Colts fan. But he's got the best gear. He's got a light-up belt! With this belt, Patriots fans will be able to see the Colts stampede coming in the dark! Man, we wish we were that cool.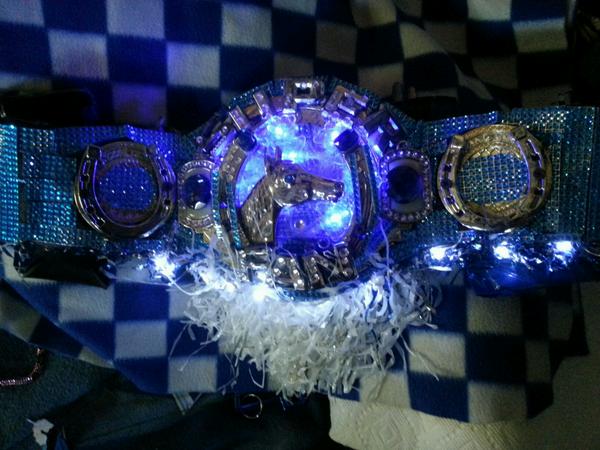 Winter
Colts Gloves
The Colts don't usually open the Lucas Oil Stadium roof in the winter. So you might only get to wear the Colts gloves before the kickoff on game day. But, Colts gloves give you a chance to tell that next-door neighbor Bears fan who's going to go the Super Bowl this year, and who isn't.
Colts Knit Tassel Hat
It gets cold in Indianapolis. Like, really cold. The best way to keep warm is to throw a knit horse on your head. Go Horse!
Gotta get that gear to gear up for Colts football season! If you want to go to one of the Colts games in person, so you can show off your stuff, check out Colts tickets for Lucas Oil Stadium.
If you've got Colts gear send us a tweet of your best Colts gear @BullseyeGroup!