Tailgating. It's so fabulous. Who would have thought an excess of beer could ever lead to humor? It's not that we think it's funny to watch sports fans make idiots of themselves; we think it's hilarious. Okay, fine, call it schadenfreude. Regardless, we'll be over here laughing hysterically. Here's our favorite tailgating fails:
1. Setting the Car on Fire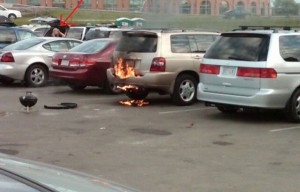 Misplacing a cell phone. Getting bored while driving. Stubbing a toe on the coffee table. These are common problems. Setting a car on fire because you put the grill in your trunk and forgot about it during the game? Should not happen on an annual basis! Save us from the idiots.
2. Dizzy Bat Thwack
If the nicest response to a dizzy bat performance is, "nice job almost hitting the ball" maybe you need another tailgating game.
3. Megaphone Funnel
He looks so at peace with his bad self. Notice the single can of cheap beer being poured into the, wait, that's not a funnel – it's plastic megaphone! Admire his skills of pouring his own beer. It begs the question, "where are his friends." Look at the singular glove. This is the MAN. He only needs one glove to be an American.
4. Hammers While Hammered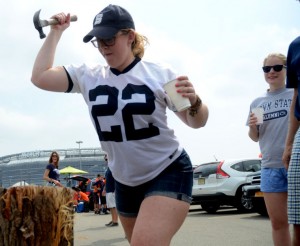 Deadly weapons in the hands of possibly, slightly inebriated, raging sports fans. What could go wrong?
5. Falling Over on Camera
If you're acting like a toddler, you'll fall over like a toddler. And just like being a kid, these stories of being clumsy will get repeated until you're old and gray.
6. Stripper Poles at the Game
Maybe there should have been roller-coaster age, height, and weight restrictions before riding.
7. Nipple Whisperer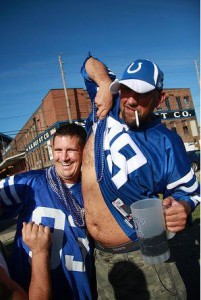 We don't want to hear that song. Get that nipple away from the poor man's ear.
8. Bad Face Paint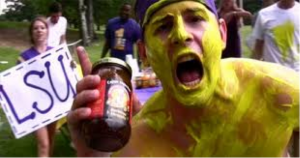 He's missed so many spots! Does he think mirrors are only for women? Look, he's got some on his hat as well! It looks like he pasted a yellow trash bag on himself and cut out holes for the eyes and mouth. Truly, tailgating is a wonder of America.
And because we all need it now, here's a tailgating success: