What do you do after the Super Bowl is over? If you have some spare time between your Super Bowl Party, your flight time, and meeting your friends, stop by one of the local Santa Clara bars to celebrate your team's victory. Or if you're team lost (or didn't even make it to Super Bowl 50) maybe find a sympathetic support group in other disappointed fans.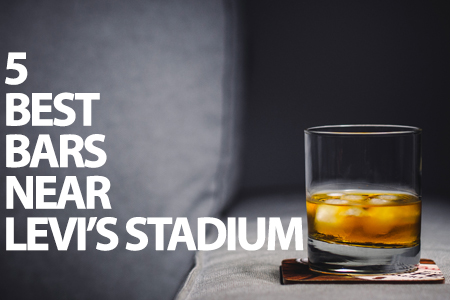 Take this time to watch all the Super Bowl ads on your phone that you missed while you were at the game. Maybe get to know the new friends you found sitting next to you, or enjoy the crazy atmosphere that is the Super Bowl.
If you're still near Levi's Stadium, here's the five best bars for post-Super Bowl 50:
By-Th'-Bucket Bar and Grill
It's been open since 1959! By-Th'-Bucket Bar and Grill has a nice atmosphere, and lots of TVs to watch post-game recaps. It's a good place to catch sit back and try a signature cocktail. Their cioppino is particularly good, if you're hungry after all that cheering. And apparently they just got a gelato case. Yum!
4565 Stevens Creek Blvd, Santa Clara, CA 95051
https://www.btbbarandgrill.com/
Characters
There's always the option of trying out a hotel bar, if you're looking for a place to go after all that historic football, but before the big parties start. The Characters bar inside the Santa Clara Mariott is a pretty good option. Catch the replays of the big plays of the game you missed because you were on your phone trying to take a selfie of you with the whole stadium. They've got food as well, if you start to get hungry.
2700 Mission College Blvd, Santa Clara, CA 95054
Normandy House Lounge
Usually a hub for 49ers fans, they'll probably make way for the huge influx of Super Bowl fans in the San Francisco 49ers territory. Lots of old school games to play (pool tables) as well as a vintage arcade section. If you feel like competing against another football fan who's just one-upped your team, get your revenge in a game of air-hockey.
30 Washington St
Santa Clara, CA 95050
https://normandybar.com/
Evolution Cafe and Bar
A nicer bar with a "techie" vibe. Evolution Cafe and Bar is a bit more sophisticated than the regular hole-in-the-wall joint. It's a good place for Santa Clara nightlife in general, but on Super Bowl Sunday you can bet it's going to be poppin'. 10 draft beers on tap as well as good shrimp tacos. And now we're hungry just thinking about it.
5101 Great America Parkway
Santa Clara 95054, CA 95054
Woodhams Sports Lounge
Dive bar. Jukebox. Karaoke. Sound good? Woodhams Sports lounge is a fairly inexpensive place with good bartenders and good crowds. Keep up the Super Bowl festivities by being a part of the atmosphere here! Different places are always worth a try on the off chance you could find a new favorite worth the trip down, or over, depending on where you're from.
4475 Stevens Creek Blvd
Santa Clara, CA 95051
The Super Bowl might be crazy and full of people, but you know it's going to be a good time! Hopefully you fund somewhere good to go after Super Bowl that continues the great atmosphere of the historic game. If you know of a bar near Levi's Stadium that's better than any of the others, let us know! Now, let's watch some football.