Time flies when you're having a most excellent season!
COLTS NATION, TAKE NOTE: Six more games … Three at home … and your Colts are making it happen, with great anticipation for playoff perfection and perhaps taking it all the way to Phoenix for Super Bowl XLIX.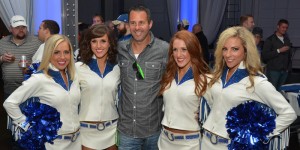 Do YOU want to make happen? Getting to a Colts home game, that is? With only three left this season, now's the time. The most exciting part about the remainder of this year's home match ups? Bullseye Event Group throws the biggest and best pre-game party in all of Indianapolis. As the Official Events and Travel Partner of the Colts, Bullseye makes sure the Colts VIP Tailgate at the Crane Bay Events Center is an all-expense-included, star-studded party -not only is the food 5-star-fantastic, it comes on an all-you-can-eat buffet, stuffed with Kobe beef sliders, seafood, fillets and tons of other favorite dishes.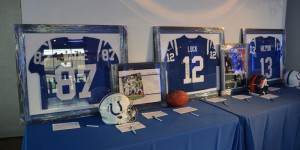 Whether you want take your sweetheart or your entire office, the Colts VIP Tailgate won't disappoint. When you arrive, you're also treated to a top shelf open liquor bar, as well as a beer and wine bar. Browse and bid on signed football memorabilia -if you're ready to get a jump on your Christmas shopping, this is definitely the place to shop.
Meet the Colts cheerleaders, watch JMV 1070 The Fan's game day broadcast LIVE, catch pre-game TV coverage streaming on multiple flat screens -maybe even meet current and past NFL celebrities who are there to party with you.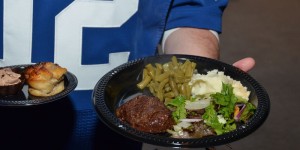 Jaguars-Colts November 23. Order your Colts VIP Tailgate tickets at Bullseye's ticket website today and while you're there, grab some great seats at this home game and make it a whole-day celebration. The Tailgate gets started three hours before kickoff, so you can go straight from partying with Bullseye to watching the Colts battle the Jaguars at Lucas Oil Stadium.
Cool, huh?
About Bullseye Event Group
Bullseye Event Group is the Official Events and Travel Partner of the Indianapolis Colts. As one of the nation's leading Sports Travel package provider and event ticket companies, Bullseye Event Group is a secure, official source for travel, hotel, pregame parties and tickets, and a direct, dependable source for The Colts VIP Tailgate, Super Bowl XLIX packages, The Players Super Bowl Tailgate, The Masters and event tickets, delivering unforgettable experiences to fans nationwide. Contact us by posting a comment below or by calling 888-900-6564.