2017 Offseason: Top Targets for Indianapolis Colts
March 10th, 2017 by Bullseye Event Group
As the 2017 offseason begins to hit its peak, teams begin focusing on that coveted Super Bowl LII trophy. Now, the Indianapolis Colts, coming off of a disappointing 8-8 campaign in 2016, have a new man in charge, and are looking to put themselves back in the driver's seat of the AFC South.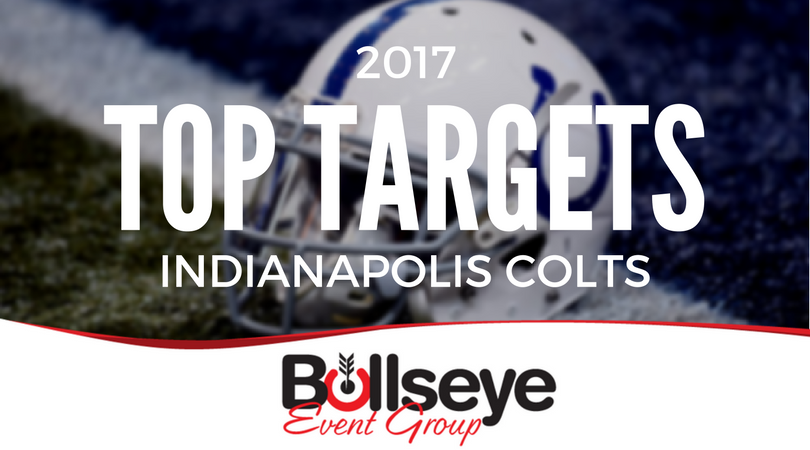 Already signed: P Jeff Locke, LB Barkevious Mingo, LB John Simon
Aside from finding the now-retired Pat McAfee's replacement in former Vikings punter Jeff Locke, new Colts general manager Chris Ballard's focus was evident; improving the pass rush. In just under 24 hours, Ballard has managed to sign former Patriots and Texans linebackers Barkevious Mingo and John Simon to efficient deals. Mingo, a one-year deal, and Simon, a three-year deal, look to shore up on of the Colts' biggest problems in 2016, struggling to rush the passer and defend the run.
Looking Forward
While obviously looking for youth, speed and defensive talent, the Colts need plenty of help on the offensive side of the ball as well. Here are some of the post-day one free agents still remaining that should be on Ballard's radar.
Jabaal Sheard, DE
It was reported on Friday morning that Sheard would be meeting with the Colts after several meetings with other teams. A former Cleveland Brown and New England Patriot, Sheard is a fast, versatile edge player that can either line up on the defensive line or at linebacker. Another young, fast edge rusher would undoubtedly solidify Ballard's efforts of upgrading the Colts' defensive front seven.
If Thursday's rumors are believed to be true, the Indianapolis Colts were making a push for former Chicago Bears wide receiver Alshon Jeffery, considered to be the prized possession of the 2017 free agency class. This would indicate doubts about former first-round pick Phillip Dorsett's future with the team, thus leaving fans to believe the Colts are in the market for a third wide receiver to round out the corps. Pryor's 2016 campaign, combined with his physical traits and raw potential, leave the former Cleveland Browns WR as an appealing choice for the Colts.
Mike Remmers, RT
Although forced to play left tackle in Carolina last season, Remmers has shown in previous seasons he can be a reliable right tackle for a solid NFL quarterback. With the protection of quarterback Andrew Luck on the forefront of many Colts fans' minds, and with the recent retirement of tackle Joe Reitz, Ballard would be well suited to make a run at Remmers to help shore up the offensive line.