2017 NFL Offseason Headlines: Week of June 5, 2017
June 9th, 2017 by Bullseye Event Group
The "Road to the Super Bowl" begins behind the scenes through the months of June and July for all NFL teams. However, "behind the scenes" can make for quite a boring offseason for football fans everywhere. We're taking a look at the biggest stories of this week from the league that never sleeps.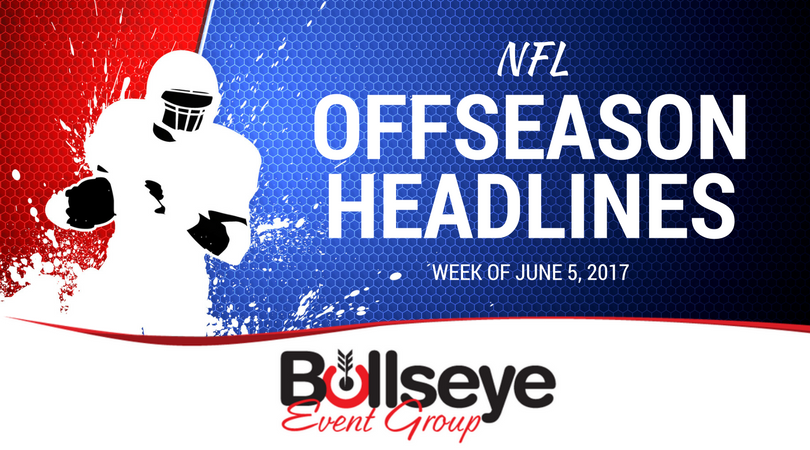 Odell Beckham Jr. looking for new deal with Giants
Pro-Bowl wide receiver Odell Beckham Jr.'s absence from the New York Giants' organized team activities (OTAs) has been well documented over the last several weeks. On Wednesday, ESPN's Adam Schefter tweeted that OBJ's absence is directly tied to the player's "desire for a new deal."
Despite Schefter's tweet, nobody from Beckham Jr. has confirmed (nor denied) the reports.
Kirk Cousins' contract talks with Washington Redskins improving
Schefter was a busy man on Wednesday morning, also breaking the news that the long and often strained contract talks between the Washington Redskins and quarterback Kirk Cousins have recently improved, raising optimism on hopes the team can secure the quarterback long-term. According to Schefter, there has been an "encouraging" tone and increase involvement from team owner Daniel Snyder.
New York Jets make flurry of moves
The New York Jets seem to be in a seemingly endless downward spiral, this week making announcements that the team would lead the team in a younger direction by cutting linebacker David Harris and making a decision to move on from wide receiver Eric Decker.
Despite an off season in 2016, the season before saw 80 catches for 1,027 yards and 12 touchdowns for the former Denver Broncos star receiver. The Jets have stated their intentions to release Decker, should the team not be able to find a trade suitor.
Tickets for the 2017 Indianapolis Colts VIP Tailgates are officially available! With a new general manager and a re-shaped roster, the Colts look to start anew and make a triumphant return to the NFL Playoffs. Get your 2017 Colts VIP Tailgate tickets today!