2017 NFL Offseason Headlines: Week of June 12
June 16th, 2017 by Bullseye Event Group
The "Road to the Super Bowl" begins behind the scenes through the months of June and July for all NFL teams. However, "behind the scenes" can make for quite a boring offseason for football fans everywhere. We're taking a look at the biggest stories from the week of June 12, 2017, in the league that never sleeps.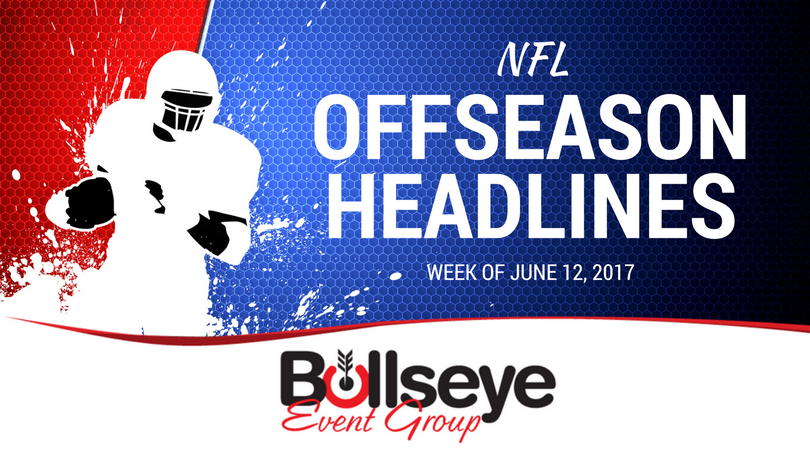 Former No. 2 Overall Pick Traded
With the 2nd overall selection in the 2014 NFL Draft, the St. Louis (now Los Angeles) Rams select offensive tackle Greg Robinson out of Auburn. And after just three seasons with the team, Rams general manager Les Snead traded Robinson to the Detroit Lions on Thursday in exchange for a 2018 6th-round pick, according to ESPN's Adam Schefter.
Robinson's arrival in Detroit comes on the heels of an announcement that Detroit's starting left tackle, Taylor Decker, could miss four to six months with a torn labrum.
2017 No. 1 Pick Myles Garret Sidelined
On Wednesday during the Cleveland Browns' team minicamp drills, the first overall pick in the 2017 NFL Draft, Myles Garrett, went down on the field with what would later be revealed as a foot injury, leaving Browns fans to worry about the severity of the injury.
According to NFL Network's Ian Rapoport, despite sitting out Thursday's activities, Garrett is "fine," and the injury to the linebacker is just a minor setback.
Odell Beckham Jr. Makes Statement with Cleats
After it was reported last week that New York Giants star wide receiver Odell Beckham Jr. was unhappy with his current contract situation, and the media frenzy surrounding his choice to not attend voluntary offseason organized team activities, Beckham was in attendance for the team's mandatory minicamps on Tuesday. But per usual with Beckham, it wasn't without a catch.
The 24-year-old All-Pro wide receiver donned cleats during the practice that seemed to make a nice gesture toward the media, choosing to "let his cleats do the talking."
@OBJ_3 letting his cleats do the talking. Well done Kickasso pic.twitter.com/MjDista9Uf

— LPG – NYG (@LicensePlateGuy) June 13, 2017
Tickets for the 2017 Indianapolis Colts VIP Tailgates are officially available! With a new general manager and a re-shaped roster, the Colts look to start anew and make a triumphant return to the NFL Playoffs. Get your 2017 Colts VIP Tailgate tickets today!