As we embark on the month of April, teams are beginning to focus on the upcoming 2017 NFL Draft. A look at the expert predictions for picks #6 through #10.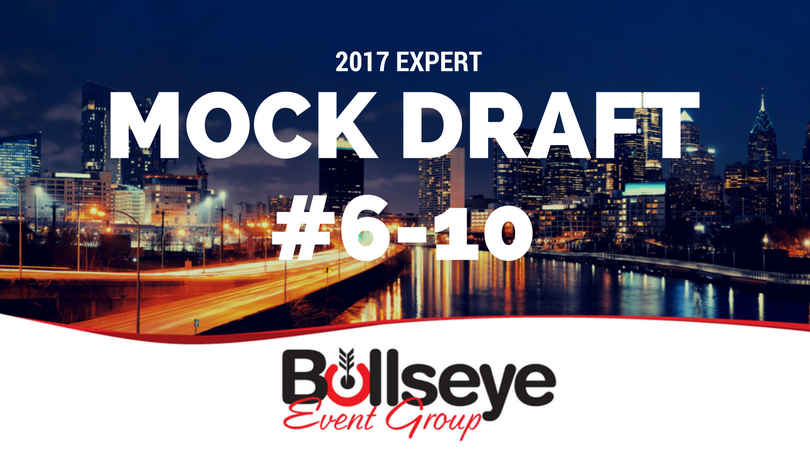 #6: New York Jets
CBS Sports: Deshaun Watson, QB, Clemson | Bleacher Report: Marshon Lattimore, DB, Ohio State | MMQB: Marlon Humphrey, DB, Alabama
"We feel like we've seen this movie before (hi, Geno Smith!) inasmuch as the Jets took a flier on a physically gifted quarterback who needed a few years to grow into the position. It never happened with Smith, and the Geno era is officially over. Watson is better than Smith at this point in his career, but he shouldn't be rushed onto the field. If the Jets can be patient, Watson could be worth the gamble." – Ryan Wilson, CBS Sports
#7: Los Angeles Chargers
CBS Sports, Bleacher Report: Malik Hooker, S, Ohio State | MMQB: Jamal Adams, S, LSU
"Pick No. 7 overall is too soon for the Los Angeles Chargers to start thinking about a future replacement for Philip Rivers. It's not too early to add a playmaking free safety to fill the hole Eric Weddle left when he went to Baltimore in free agency last year." – Matt Miller, Bleacher Report
#8: Carolina Panthers
CBS Sports, MMQB: Leonard Fournette, RB, LSU | Bleacher Report: Quincy Wilson, CB, Florida | 
"Cam Newton had an off year, and Carolina needs to buttress its offensive line to ensure that doesn't happen again. It's too high to take an O-lineman here, but not too high to take a runner—if it's a once-in-a-generation talent like Fournette. The LSU star could also alleviate some pressure on Newton as the Panthers look to reclaim a balanced offense and regain form in the NFC South." – Emily Kaplan, MMQB
#9: Cincinnati Bengals
CBS Sports: Corey Davis, WR, Western Michigan | Bleacher Report: Reuben Foster, LB, Alabama | MMQB: Derek Barnett, DL, Tennessee
"The Bengals drafted Tyler Boyd last year, but it wasn't enough to overcome the loss of Mohamed Sanu and Marvin Jones, who had great 2016 seasons in Atlanta and Detroit. Corey Davis (6-3, 209) and he would immediately upgrade a passing offense that already includes A.J. Green, Tyler Eifert and Boyd." – Ryan Wilson, CBS Sports
#10: Buffalo Bills
CBS Sports: Mike Williams, WR, Clemson | Bleacher Report, MMQB: Deshaun Watson, QB, Clemson | 
"Deshaun Watson has his warts as a prospect, but every quarterback in this class does. With Watson, you at least know you're getting a poised passer with some dual-threat skills and an excellent leader. He'll need some time to fully develop and learn an NFL offense, but he's not far behind Jared Goff or Paxton Lynch in terms of developmental needs. His arm strength isn't amazing, but offensive coordinator Rick Dennison doesn't need a cannon back there. He needs touch, timing and anticipation. Watson has all those tools." – Matt Miller, Bleacher Report
Full 2017 NFL Draft 1st-Round Mock Drafts.
For Ryan Wilson's CBS Sports mock draft, click here.
For Matt Miller's Bleacher Report mock draft, click here.
For Emily Kaplan's MMQB mock draft, click here.