Officially under one week until the 2017 NFL Draft from Philadelphia, we're taking a look at what experts around the league predict will happen in the first round. Next up: the teams selecting #21-25 next Thursday.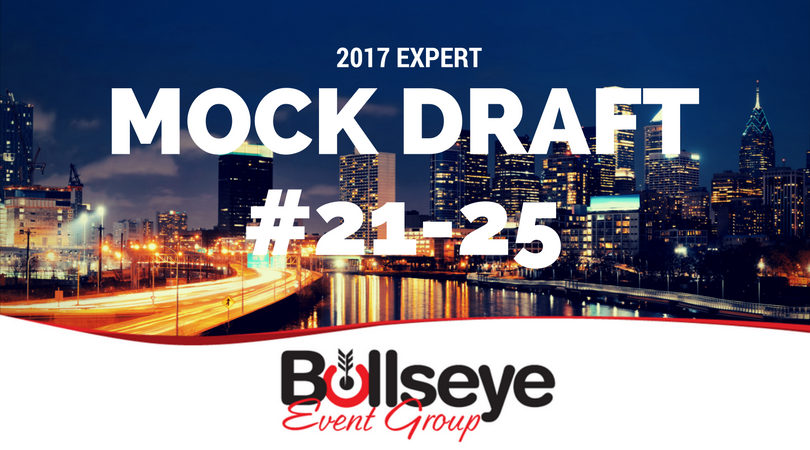 #21: Detroit Lions
CBS Sports: Haason Reddick, LB, Temple | Bleacher Report: David Njoku, TE, Miami (FL) | MMQB: Teez Tabor, DB, Florida
"Lions fans may not want another first-round tight end after the mistake that was Eric Ebron, but it's hard to look past David Njoku if he's on the board. It'll be especially hard for a general manager like Bob Quinn that grew up in the New England system and knows how valuable a game-changing tight end is." – Matt Miller, Bleacher Report
#22: Miami Dolphins
CBS Sports, MMQB: Takkarist McKinley, OLB/DE, UCLA | Bleacher Report: Haason Reddick, LB, Temple |
"An exceptional athlete who is still rough around the edges, McKinley registered nine sacks last season and for a Dolphins team that ranked 31st in pass rush a year ago, McKinley fills an obvious need. Offseason surgery will keep McKinley sidelines until late summer, but he'll be worth the wait." – Ryan Wilson, CBS Sports
#23: New York Giants
CBS Sports, MMQB O.J. Howard, TE, Alabama | Bleacher Report: Jabrill Peppers, S, Michigan | 
"I get the feeling the Giants would like to draft a quarterback to eventually replace Eli Manning, but this is not the year—or rather, this is not the round. Instead, New York's front office will decide to maximize the last of the Manning years by giving him a go-to tight end. Howard is every bit as polished and impressive as advertised." – Emily Kaplan, MMQB
#24: Oakland Raiders
CBS Sports: Marlon Humphrey, CB, Alabama | Bleacher Report: Sidney Jones, CB, Washington | MMQB: Haason Reddick, LB, Temple
"The Raiders ranked 25th in pass defense last season and Humphrey is considered one of the most physical cornerbacks in the draft. His father, Bobby Humphrey, was a first-round draft pick of the Broncos in 1989." – Ryan Wilson, CBS Sports
#25: Houston Texans
CBS Sports: Cam Robinson, OL, Alabama | Bleacher Report: DeShone Kizer, QB, Notre Dame | MMQB: Patrick Mahomes, QB, Texas Tech
"He's a total gunslinger with some mechanical and footwork issues to sort out. He's also the best arm in this draft, no doubt, with some of the special playmaking and leadership qualities scouts gush about when talking about Deshaun Watson. The Texans are a quarterback away from being legit contenders." – Emily Kaplan, MMQB
Full 2017 NFL Draft 1st-Round Mock Drafts.
For Ryan Wilson's CBS Sports mock draft, click here.
For Matt Miller's Bleacher Report mock draft, click here.
For Emily Kaplan's MMQB mock draft, click here.
Tickets for the 2017 Indianapolis Colts VIP Tailgates are officially available! With a new general manager and a re-shaped roster, the Colts look to start anew after their disappointing 2016 campaign. Get your 2017 Colts VIP Tailgate tickets today!