With NFL teams fine tuning their strategies for the upcoming season, sights are set on Super Bowl LII in Houston in 2018. A look at some of the expert predictions for the teams selecting #11-15 in this months NFL Draft from Philadelphia.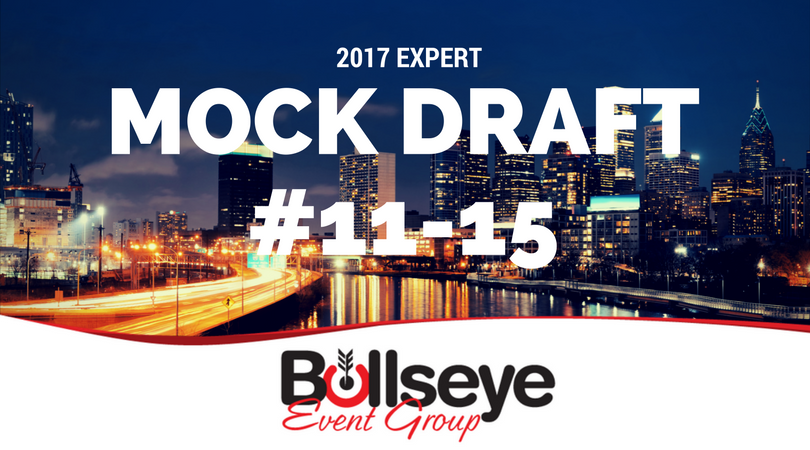 #11: New Orleans Saints
CBS Sports, Bleacher Report: Taco Charlton, DE, Michigan | MMQB: Solomon Thomas, DL, Stanford
"Here's all you need to know: 30th, 32nd, 31st — that's where the Saints' defense has finished the last three years. So it stands to reason that they continue to add defensive playmakers early in the draft, which is why defensive end Taco Charlton — who has drawn comparisons to Chandler Jones — is the pick here." – Ryan Wilson, CBS Sports
#12: Cleveland Browns (from Philadelphia)
CBS Sports: Jonathan Allen, DL, Alabama | Bleacher Report: O.J. Howard, TE, Alabama | MMQB: DeShone Kizer, QB, Notre Dame
"Securing a starting quarterback and a generational talent like Garrett would be a home run of a draft for the Browns' front office. Don't mess this up, Sashi Brown. Among the top QB prospects, it feels like Kizer is the guy talked about least. He has traits to be a strong pocket passer and is the biggest of the first-round candidates." – Emily Kaplan, MMQB
#13: Arizona Cardinals
CBS Sports: Sidney Jones, CB, Washington | Bleacher Report: Corey Davis, WR, Western Michigan | MMQB: Mike Williams, WR, Clemson
"The Cardinals need help in the secondary and Jones is a rangy cornerback who plays like a receiver when the ball is in the air. He's been compared to Marcus Peters, the Chiefs' 2015 first-round pick." – Ryan Wilson, CBS Sports
#14: Philadelphia Eagles (From Minnesota)
CBS Sports: John Ross, WR, Washington | Bleacher Report: Mike Williams, WR, Clemson | MMQB: Sidney Jones, CB, Washington
"Williams is a specialist in traffic and excels at making the tough grade with defenders all around him. He's not the fastest player in the class by any means, but he is the best overall wide receiver on my board. His route-running, size and length all add up to making him a true No. 1 wideout prospect." – Matt Miller, Bleacher Report
#15: Indianapolis Colts
CBS Sports: Derek Barnett, DE, Tennessee | Bleacher Report: Charles Harris, EDGE, Missouri | MMQB: Cam Robinson, OL, Alabama
"One of the reasons Chris Ballard was attracted to the Indy GM job was Andrew Luck. So Ballard must do everything he can to ensure that Luck is in the best position to succeed—and for Indianapolis, that means addressing an Achilles heel: the offensive line. Pair Robinson with his former Crimson Tide teammate Ryan Kelly, and the Colts are getting back on track." – Emily Kaplan, MMQB
Full 2017 NFL Draft 1st-Round Mock Drafts.
For Ryan Wilson's CBS Sports mock draft, click here.
For Matt Miller's Bleacher Report mock draft, click here.
For Emily Kaplan's MMQB mock draft, click here.