So you're thinking about going to Super Bowl LI in Houston? Congratulations! Whether you're looking into booking a trip as a Christmas gift or just wanting to mark something off the bucket list, you've come to the right place. Here are 20 things to before Super Bowl LI.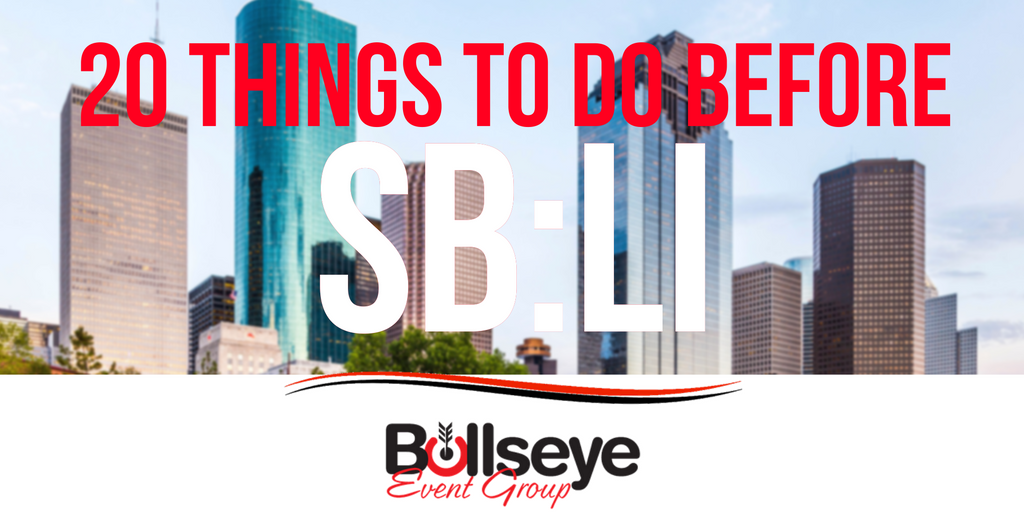 1. Research Travel Packages: Bullseye Event Group has three separate travel packages to choose from for Super Bowl LI in Houston. Do your homework and select the best hotel and travel package for you, with some of the most luxurious hotels in the Houston area to choose from.
2. Pick Hotel: The time has come, you've done your research. Now it's time to select the hotel and travel package of your choice.
3. Purchase Travel Package: The moment of truth. Seal the deal with your official Bullseye Travel Package to Super Bowl LI in Houston.
4. Book Your Flight: With the hotel and gameday taken care of, now it's time to arrange your travel to Houston. Use sites such as Priceline, Orbitz or Kayak to book your flight to Super Bowl LI!
5. Put It On The Calendar: You can officially say you're going to the Super Bowl. Time to put your travel itinerary on your calendar!
6. Have A Drink and Celebrate: You've done the work. You've researched, and made the purchase. Now it's time to celebrate and relax. You're going to Super Bowl LI!
7. Take Off Work: While this might seem like a given, be sure to take the day after the Super Bowl off as well (we don't know why this isn't a national holiday).
8. Tell Everyone: "Did you hear? I'm going to the Super Bowl." What's the point of the trip if you can't brag a little to your friends?
9. Research Houston: Do your due diligence on the Houston area and find some of the things that interest you the most. With just a few days in Houston, make your time count.
10. Find the Best BBQ: They say everything is "bigger in Texas," and since the lone star state is known for their barbecue, it's time to find the best in the area.
11. Start A Countdown: How many days are left until the Super Bowl? You need to know. Set up a countdown timer on your iPhone or Android that will tell you exactly how much time until the big game!
12. Research the NFL Experience (NFLX): For several years, the NFL has put on an "NFL Experience" during the Super Bowl.
13. Enjoy the Season: As the NFL's regular season winds down, enjoy the finer things in life; like waiting to see if the Cleveland Browns will ever win again.
14. Pack Your Bags: Depending on where you come from, odds are Houston is going to feel like paradise in the middle of winter. Be sure to pack plenty of 'warm weather' clothes!
15. Make A List: You've done your research on Houston, now it's time to make a list of everything you want to do (and not do) while you're there!
16. Binge Lady Gaga: Make sure you catch up on all of Lady Gaga's latest music before she performs at the Pepsi Super Bowl Halftime show at Super Bowl LI.
17. Time to Go: It's here! Finally! Time to head for Houston, Texas, for Super Bowl LI weekend!
18. Get Your Rest: It's been a long season. It's time to settle in and relax, because tomorrow's the big day. A day full of VIP tailgating and the SUPER BOWL!
19. The 2017 Players Tailgate: All of Bullseye's Super Bowl LI Travel Packages include a ticket into the exclusive 2017 Players Tailgate at Super Bowl LI (individual tickets can be purchased here). Head over to the Players Tailgate before the game in a private escort from your hotel, and enjoy a meal created by a team of America's favorite chefs, led by Guy Fieri, hosted by Emmy-award winning ESPN SportsCenter anchor Jaymee Sire, a premium open bar, and mingle with celebrities and over 25 NFL players!
20. Head to the Game: It's time! You're well rested, you've had a wonderful meal and some drinks at the Players Tailgate, and now, it's time to head to NRG Stadium for Super Bowl LI!