Super Bowl Players Tailgate
Purchase Players Tailgate Tickets
BREAKING NEWS: Guy Fieri will be back for the Players Tailgate in Houston.
Get ready for the ultimate tailgate experience at Super Bowl LI in 2017!
About the Tailgate:
Bullseye Event Group's exclusive Players Tailgate at the Super Bowl has earned the reputation as the best Super Bowl pre-game experience, where over 25 active NFL players, celebrities and guests eat, drink and get entertained before the big game. Described as a culinary experience in itself, The Players Tailgate features an open premium bar and all-you-can-eat dining with gourmet dishes. The 2016 Tailgate menu was created by renowned celebrity chefs Guy Fieri, Aaron May, Beau MacMillan and G Garvin.
We recognize a good thing when we see one and that is why Bullseye Event Group is excited to announce Celebrity Chef Guy Fieri will be the 2017 Players Tailgate chef at the Super Bowl in Houston. Aaron May and Guy Fieri will be choosing two more celebrity chefs to join the all-star kitchen in Houston.
Guests enjoy an indoor/outdoor pavilion lined with private tables and an abundance of soft white leather furniture where you can watch ESPN's pre-game coverage broadcast on large LED monitors. It is an amazing experience for football fans young and old! This is an all-ages event! When it's time for the Super Bowl Sunday there isn't a better option than the Players Tailgate.
Take a look at the video from the 2016 Players Tailgate in San Francisco for Super Bowl 50 to get an idea of what's in store.
The Food:
Guy Fieri, the most recognizable Chef in America, will be creating an exclusive all-you-can-eat menu for The Players Tailgate attendees again in Houston for the 2017 Super Bowl.
Guy Fieri can be seen on television almost every day on the Food Network. His shows include Diners, Drive-Ins and Dives, Guy's Big Bite, Guy Off the Hook, Dinner: Impossible, Guy's Grocery Games, Rachael vs. Guy: Celebrity Cook-Off, The Next Food Network Star, Ultimate Recipe Showdown, The Best Thing I Ever Ate and Minute to Win It, just to name a few.
2017 Chef Eddie Jackson Season 11 winner of the "Next Food Network Star," Jackson has created a unique style of cooking that combines two of his greatest passions, food and fitness. After retiring from a successful career in the NFL, Jackson took time to tirelessly hone his cooking craft, competing and finishing in the top 6 of Fox's "MasterChef" in season 4. Jackson can be seen on Food Network's "BBQ Blitz."
2017 Chef Aaron May is a top chef in America can prepare an incredible meal for 2 to 200 people, in order to considered one of the best caterers in America you need to be able to create a meal for 2200 and have it as good as that meal for 2 to 200. That is why Aaron May is considered the BEST caterer in the US.
Chef May is classically trained in Paris at the Ecole Ritz Escoffier and is inducted into the Arizona Culinary Hall of Fame in 2010 as a "Chef Extraordinaire." He has been featured on Food Network's wildly popular Diners, Drive-Ins and Dives and TLC's Best Food Ever. His fiercely loyal fan base has recognized him with many local awards, including "Best Tapas" and "Best Speakeasy," and he has also garnered attention from national publications such as Food & Wine, Condé Nast Traveler, Sunset Magazine and USA Today.
A quick mind and a low threshold for boredom, which goes a long way toward explaining the restaurant empire he's building. Given his passion for food and irrepressible creativity, is why he is considered one of the top caterers in America.
2017 Chef Douglas Rodriquez is the globally acclaimed "Godfather of Nuevo Latino Cuisine," Douglas Rodriguez has blazed a trail that has inspired popular chefs around the world to take after his culinary creativity. Selected as one of the 100 Americans that will influence the coming millennium in the culinary industry, Rodriguez is one of the distinguished culinary elite to be on the first season of "Top Chef Masters" on Bravo.
Rodriguez can also be seen in a myriad on national publications, such as Food and Wine, Metropolitan Home, Esquire and Bon Appétit. The popular chef has also made numerous television appearances on shows such as The Late Show with David Letterman, Good Morning America, The Today Show and CBS Weekend Morning.
2017 Chef Reno Henriques is the renowned chef and owner of Fresh Catch, an island-style restaraunt specializing in seafood and world-class deli meats, Reno Henriques has created a unique culinary style. Known as the "Poke master of Hawai'i," Henriques graduated from the Western Culinary institute in Portland, Oregon. After graduation, Henriques chased his dream of preparing delectable seafood dishes, inspired by his childhood next to the ocean, diving and fishing.
2017 Chef Rodolfo Valdes was born into a family of restauranteurs, Valdes knew from a young age that enjoyed providing people with a good meal. After graduating from the School of Culinary Arts at the Art Institute, Valdes honed his craft while studying at the world renowned Cordon Bleu in Paris, France and London, England.
Valdes is currently executive chef at the Pan Y Agua restaurant group, founded in 2008 with Crave Kitchen & Bar in Cincinnati, OH. Pan Y Agua boasts some of the best restaurants in the country, with four Crave locations, Independent Burger and TI:ME at Montecillo.
2017 Chef Pete Blohme is the Owner and executive chef of Panini Pete's Cafe and Bakeshop in Fairhope, Alabama, Pete Blohme has made headlines nationwide. Being featured with Guy Fieri on shows such as Diners, Drive-Ins and Dives and Guy's Big Bite on Food Network, as well as CMT's Sweet Home Alabama.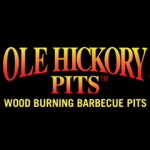 Ole Hickory BBQ Pits will be on hand at the Players Tailgate! Manufacturing wood burning smoker ovens and barbecue pits, Ole Hickory utilizes their state of the art equipment to help produce good, old-fashioned barbecue.
Pioneers in the barbecuing business since 1974, Ole Hickory provides services worldwide, from commercial ventures to small "mom-and-pop" operators. An Ole Hickory BBQ Pit will be set up at the 2017 Players Tailgate to help in the creation of a Texas-sized barbecue feast!
The Venue:
2017 Players Tailgate venue for Super Bowl LI has been announced!
The 2017 venue for The Players Tailgate at Super Bowl LI is in a prime location located only 1 1/2 blocks from the entrance to the Super Bowl at NRG Stadium. Bullseye Event Group will be transforming Mike Calvert Toyota in Houston into one of the hottest pre-game VIP parties.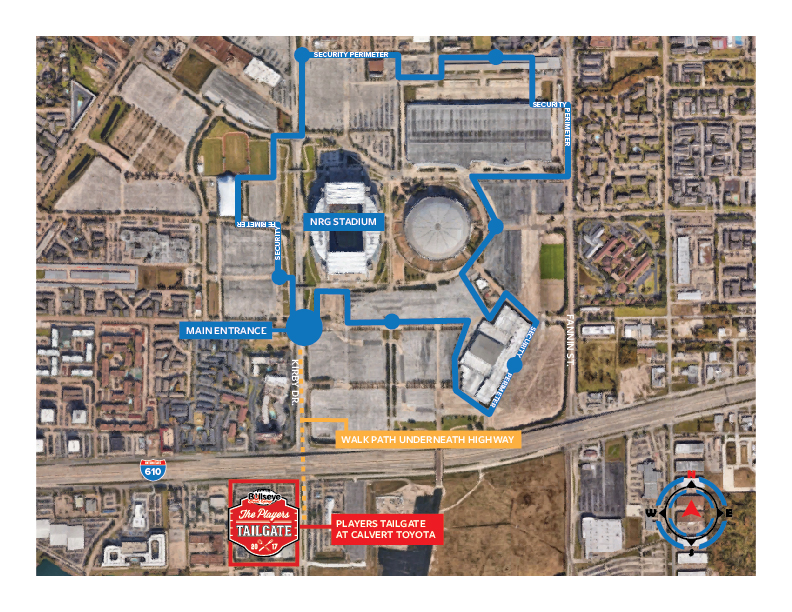 2016 SB50 Players Tailgate Host:
*2017 Players Tailgate Host will be announced in December 2016