Super Bowl LIV Miami Florida
Sunday, February 2, 2020
The NFL has announced that Super Bowl LIV will be played in Miami on Sunday, February 2, 2020
"Where would you rather be in February, any place in the United States?" "Everybody wants to be in South Florida in February" and that is why it was an easy choice to award Miami Super Bowl 54
Miami in 2020 will host the NFL's title game for a record 11th time but for just the first time in a decade.
Book your packages now! Hotels in Miami are going to be harder to find than the Super Bowl tickets themselves!

Request Additional Information
Super Bowl 54 Travel Packages
Fontainebleau Miami Beach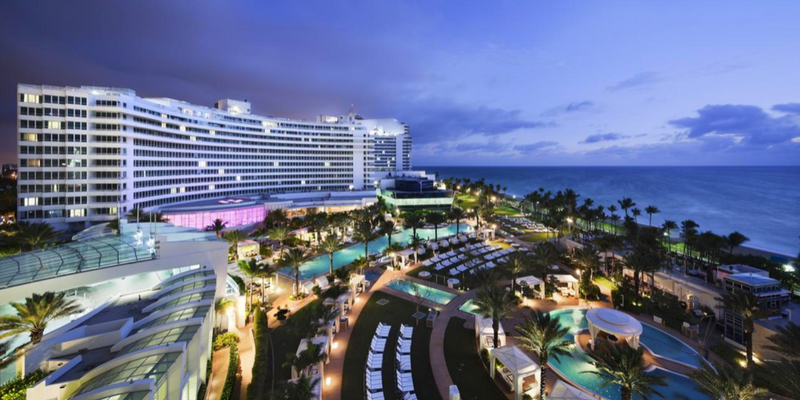 THE #1 HOTEL IN MIAMI BEACH- TRAVEL + LEISURE
Fontainebleau Miami Beach is the ICON luxury hotel ideally located on Miami Beach. The oceanfront resort features spacious guest rooms and suites with ocean views, luxury spa, award-winning restaurants.
Situated on oceanfront Collins Avenue in the heart of Millionaire's Row, Fontainebleau Miami Beach is the most historically and architecturally significant hotels on Miami Beach. Its iconic design is a spectacular blend of Miami's glamorous golden era and stylish modern luxury. A revered Miami Beach landmark for more than half a century, Morris Lapidus' emblematic curvilinear building sets a new standard for business and pleasure. The 22-acre oceanfront Miami Beach hotel features signature restaurants by award-winning chefs; two chic nightlife venues; a two-story spa, a virtually endless poolscape and miles of pristine beach . Even before it opened in 1954, Fontainebleau had a rich history shaped by the rapid expansion of the Miami area and its popularity with celebrities. That same persona lingers on today the Fontainebleau Hotel is definitely the see and be seen hotel for Super Bowl weekend.
Super Bowl 54 Fontainebleau Miami Beach Package Includes:
Three (3) night deluxe accommodations at Fontainebleau Miami Beach; Check in Friday, January 31, 2020 / Check out Monday, February 3, 2020
Super Bowl LIV game ticket: Upper Level End Zone (Ticket upgrades available)
Super Bowl Players Tailgate ticket: Admission into The Super Bowl Players Tailgate pre-game party. Tailgate highlights include: Open premium bar, 5-star food menu created by multiple Celebrity Chefs, 25+ active NFL players in attendance, walking distance to Hard Rock Stadium.
Super Bowl gift bag
Round trip game day transportation to Hard Rock Stadium
1 Hotel South Beach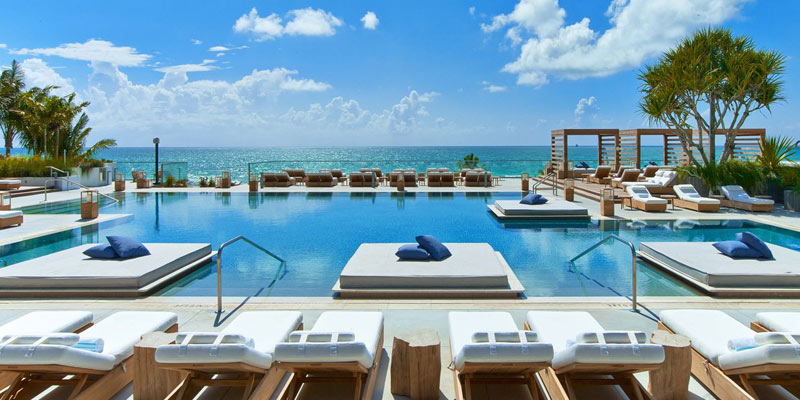 This South Beach retreat is inspired by 600-feet of beach on the Atlantic Ocean. Designed for comfort, using reclaimed materials, it is one-of-a-kind, naturally. Truly the best hotel on South Beach.
The superlatives that could be used to describe this property are many, including "spacious" (the rooms average 700 square feet) not your typical small South Beach hotel room. "experiential" (the list of activities includes everything from kayaking to stargazing) and "tasty" Tom Colicchio's Beachcraft restaurant. 18,000-square-foot fitness center, spa and South Beach's only green hotel. Even the key cards are made of recycled wood.
Refuel at seven unique dining venues, where ingredients take center plate. Farm-stand fresh, Florida local. Offerings include: Beachcraft, Tom on Collins, The Sand Box, by Tom Colicchio, Watr at The 1 Rooftop and STK by the One Group.
Super Bowl 54 1 Hotel South Beach Package Includes:
Four (4) night deluxe accommodations at 1 Hotel South Beach; Check in Thursday, January 30, 2020 / Check out Monday, February 3, 2020
Super Bowl LIV game ticket: Upper Level End Zone (Ticket upgrades available)
Super Bowl Players Tailgate ticket: Admission into The Super Bowl Players Tailgate pre-game party. Tailgate highlights include: Open premium bar, 5-star food menu created by multiple Celebrity Chefs, 25+ active NFL players in attendance, walking distance to Hard Rock Stadium.
Super Bowl gift bag
Round trip game day transportation to Hard Rock Stadium