The Chargers Official VIP Tailgate
The Ultimate Tailgate Experience for every home game of the 2022 Chargers Season
Located OUTSIDE the Hollywood Park Casino located directly next to and in the parking lot of SOFI Stadium.
If you are a diehard Chargers fan and you want the best tailgating experience, you'll want to check out the new Chargers Official VIP Tailgate.
Bullseye Event Group will follow local Covid-19 protocols and NFL fan guidelines for tailgate events.
Purchase Chargers VIP Tailgate Tickets
The Venue:
Hollywood Park Casino
The Official Chargers VIP Tailgate, is located on the grounds of the Hollywood Park Casino property that borders SOFI Stadium literally in the parking lot of SOFI Stadium. The outdoor experience is equipped with Chargers blue carpet to enhance the VIP Tailgate experience.
Purchase Chargers VIP Tailgate Tickets
VIP Tailgate Features:
Open three hours prior to kickoff, come watch the early games broadcasted live
Located outside the Hollywood Park Casino directly next to SOFI Stadium
Music Headliner DJ Ryan D official DJ of the Chargers VIP Tailgate
All food and drinks (bar) are included in price
All you can eat premium food stations exclusively created by Food Network Celebrity Chef Aaron May
Our chefs work to create exciting menus that change to feature the freshest market selections, local fare, gluten free, & vegetarian options. An example menu: Santa Fe Caesar salad, Citrus salad, Penne Pasta in a smoked tomato sauce, Yucatan Chicken Sandwich, Smoked Sri Tip Sandwiches, Smoked Baby Back Ribs, Creamy Coleslaw, Cornbread pudding, Green Chile Mac'n Cheese, La Brea Jalapeño Cheddar Texas Style Toast, Frito Pie, Warm Cookie Pie served with vanilla ice cream.  Minor menu changes periodically.
All ages are welcome. Kids 8 and under are free and do not need a ticket.
Lounge seating with soft leather couches
Pre-game HD tv coverage
Microsoft gaming area inside the Chargers VIP tailgate with Xbox gaming stations for kids
Live silent auction on amazing signed Chargers memorabilia.
Parking is not included with tailgate ticket.
VIP Reserved Cabana for 8 includes: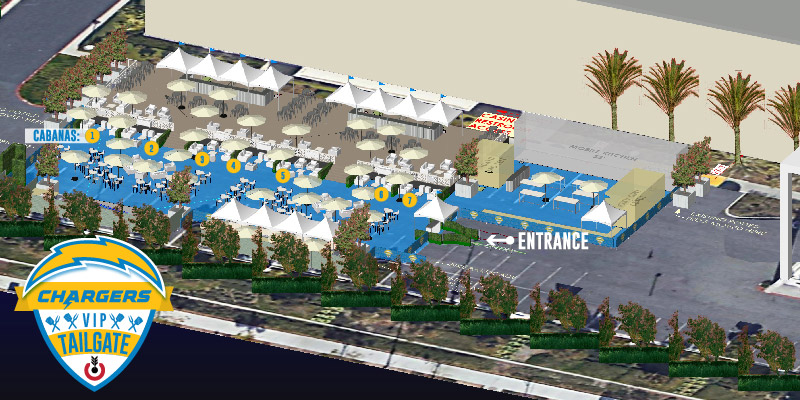 Eight (8) Chargers VIP Tailgate tickets with VIP Reserved Cabana Access
One (1) Leather couch and one (1) table
One (1) Umbrella
Four (4) leather chairs
Hors D'ouvres
Dedicated bottle service with the following beverage package:
One (1) Bottle of Premium Vodka
One (1) Bottle of Premium Tequila or Whiskey and Mixers (soda)
One (1) Bottle of Champagne
Premium bottled beer selection of your choice
Bottled water
VIP Hostess for Cabana